UN Security Council slams terrorist attack in Tunisia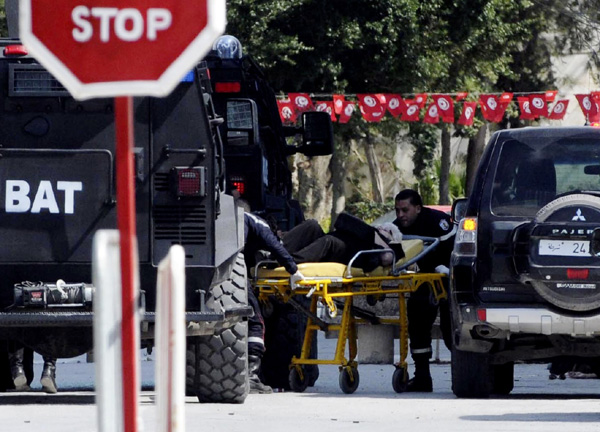 A tourist injured after an attack by gunmen on Tunisia's national museum is wheeled on a stretcher in Tunis March 18, 2015. [Photo/Agencies]
UNITED NATIONS - The UN Security Council on Wednesday condemned "in the strongest terms the terrorist attack" at the National Bardo Museum in Tunis, capital of Tunisia, resulting in the death of at least 20 people.
"The members of the Security Council expressed their deepest condolences to the families of the victims of this heinous act and to the government of Tunisia and other relevant governments who have lost their citizens in this attack," said a statement issued to the press here by the 15-nation UN body.
They "underlined the need to bring perpetrators, organizers, financiers and sponsors of these reprehensible acts of terrorism to justice, and urged all States, in accordance with their obligations under international law and relevant Security Council resolutions, to cooperate actively with the Tunisian authorities in this regard," said the statement.
At least 20 people were killed, including 17 tourists, in an armed attack on the museum on Wednesday, reports said, adding that those killed foreign tourists were from Italy, Germany, Poland and Spain following the most serious attack in Tunisia in years.
Five "terrorists" carried out the attack on the Bardo Museum, two of them were killed by security forces, Tunisian Prime Minister Habib Essid said at a press conference.
A Tunisian citizen and a policeman were also killed in the attack, Essid said, adding that about 100 tourists were inside the museum when it was attacked.
"The members of the Security Council stressed that no terrorist attack can reverse the path of Tunisia towards democracy and all efforts directed towards economic recovery and development," said the council statement.
They "reaffirmed the need to combat by all means, in accordance with the Charter of the United Nations, threats to international peace and security caused by terrorist acts, and that any acts of terrorism are criminal and unjustifiable, regardless of their motivation, wherever, whenever and by whomsoever committed."
At the same time, the statement reminded States that measures to be taken to combat terrorism must be ensured to "comply with all their obligations under international law, in particular international human rights, refugee and humanitarian law."
Earlier Wednesday, UN Secretary-General Ban Ki-moon condemned "in the strongest terms" the attack on the museum and "deplores the loss of life."