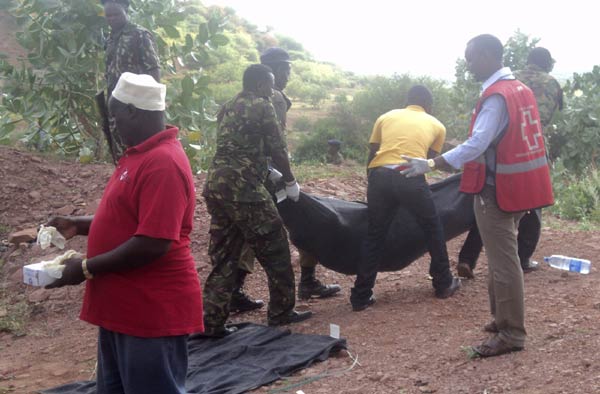 Kenyan military personnel and Red Cross volunteers carry bodies of people killed at a quarry in a village in Korome, outside the border town of Mandera December 2, 2014. [Photo/Agencies]
UNCOMPROMISING
As with past attacks, al Shabaab said it was punishing Kenya for sending troops to join African peacekeepers battling the Islamists in Somalia. In a statement, it put the death toll at 40 and called the victims "Kenyan crusaders".
"We are uncompromising in our beliefs, relentless in our pursuit, ruthless against the disbelievers and we will do whatever necessary to defend our Muslim brethren suffering from Kenya's aggression," spokesman Ali Mohamud Rage said.
Kenya's government and a witness said 36 people were killed. The government cited survivors saying about 20 fighters assaulted the quarry, about 15 km (10 miles) from the town of Mandera. One person died in another attack on the northern town of Wajir late on Monday.
Fearing another attack, hundreds of people in Mandera fled to army or police posts for shelter. "I am on my way out of Mandera. I can't wait to be ferried in a coffin or body bag," said one government worker, giving his name only as George.
Western diplomats say that Kenya's security services, which receive support from Britain, the United States and others, are hobbled by poor coordination.
Government opponents say the troops in Somalia have not protected Kenya and should be withdrawn. The government has repeatedly said it will not pull the troops out.
"They were supposed to create a buffer between our countries and the chaos on the other side. But it has not done that. So we are saying, 'Leave'," Dennis Onyango, a spokesman for opposition politician and former prime minister Raila Odinga, said.
Al Shabaab has been driven out of several strongholds in Somalia by an offensive by African Union and Somali troops this year, but analysts said it would not prevent the group from carrying out guerrilla-style attacks or striking abroad.
"This (latest attack) seems very much in line with al Shabaab strategy," said Cedric Barnes of the Crisis Group in Nairobi of the latest attack. "It's partly a result of al Shabaab being squeezed in Somalia."