Kenyan president changes security officials after al Shabaab kill 36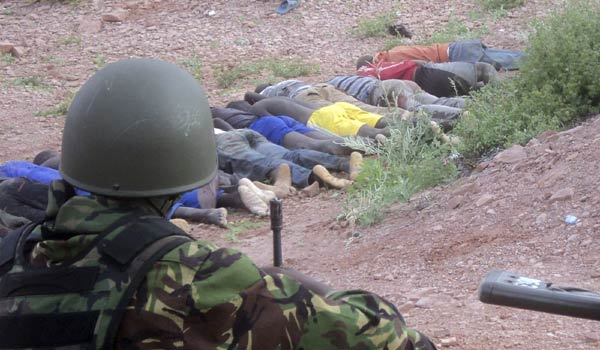 A Kenyan soldier is pictured near bodies lined up on the ground at a quarry site where attackers killed at least 36 workers in a village in Korome, outside the border town of Mandera December 2, 2014. [Photo/Agencies]
NAIROBI - Somali al Shabaab Islamist militants killed 36 non-Muslim workers at a quarry in northeast Kenya on Tuesday, prompting the president to sweep out his top security officials in order to tackle a relentless wave of violence.
Kenyans have grown increasingly critical of President Uhuru Kenyatta for failing to do more to defend the east African nation from the incessant militant attacks, which have killed well over 200 people since 2013.
Al Shabaab has claimed responsibility for much of the bloodshed and says it will keep it up to persuade Kenya to pull its troops out of neighbouring Somalia, where its forces have joined other African Union troops battling the militants.
In Tuesday's attack, gunmen crept up on dozens of workers sleeping in tents, a resident said, in the same area near the Somali border where a bus was hijacked just over a week ago and 28 passengers killed.
"The militia separated the Muslims, then ordered the non-Muslims to lie down where they shot them in the head at close range," said Hassan Duba, an elder at a nearby village.
A witness said at least two of the victims were beheaded.
Public pressure had been rising on Kenyatta to sack police chief David Kimaiyo and Interior Minister Joseph ole Lenku since al Shabaab's attack on Nairobi's Westgate shopping mall last year that killed 67 people, and after subsequent violence.
Addressing the nation on Tuesday, Kenyatta said he had accepted Kimaiyo's resignation and nominated a new interior minister, Joseph Nkaissery, a retired major general, urging parliament to speedily approve his choice.
He called on opponents, who have criticised his handling of security policy, to unite in fighting the militants. "Our bickering only emboldens the enemy," the president said.