Egypt's Mubarak sentenced to 3 years in jail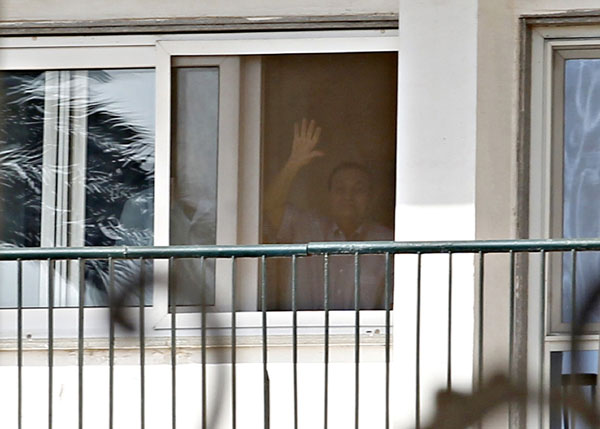 Former Egyptian president Hosni Mubarak waves from his room during a celebration by his supporters of the 32nd anniversary of the liberation of Sinai in front of Maadi military hospital on the outskirts of Cairo April 25, 2014.[Photo/Agencies]

CAIRO - An Egyptian court on Wednesday sentenced former president Hosni Mubarak to three years in jail for embezzlement of public funds designated for maintenance of the presidential palaces, state-run Nile TV reported.
"The court orders Mohamed Hosni Mubarak to be sent to jail for three years," said judge Osama Shaheen as Mubarak looked on from a cage flanked by his sons, who were sentenced to four years in jail on the same charges.
The court fined Mubarak and his sons 21.197 million Egyptian pounds ($2.98 million) and ordered them to repay about 125 million Egyptian pounds of funds the court said they had stolen.
Mubarak's former intelligence chief, Abdel Fattah al-Sisi, is poised to be elected president next week.
Mubarak has been under house arrest at a military hospital since August pending retrial in a case of complicity in killing protesters during the 2011 uprising that ended his rule.
It was not immediately clear if the three years Mubarak and his sons have already spent in jail would be counted toward the sentence and if Mubarak would return to the army hospital or be sent to prison.