Aftershock kills 15 in quake-hit Pakistan province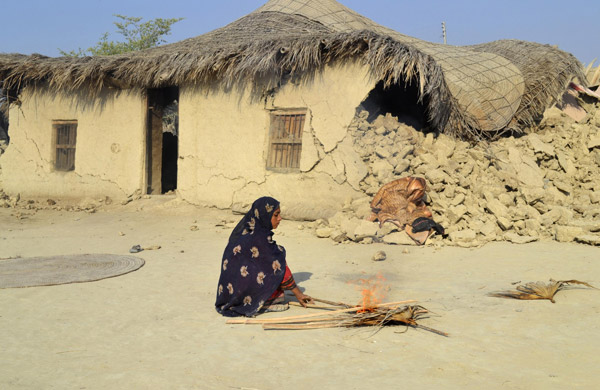 A survivor of an earthquake burns wooden sticks near the rubble of a mud house after it collapsed following the quake at Dhallbedi Peernder village in Awaran district, southwestern Pakistani province of Baluchistan, September 27, 2013. [Photo/Agencies]
QUETTA, Pakistan - At least 15 people were killed on Saturday when an aftershock hit a Pakistani province where hundreds were killed in an major earthquake earlier this week.
Saturday's 6.8 magnitude aftershock destroyed most of the town of Nokjo in the western province of Baluchistan, police said. The town is home to at least 15,000 people.
At least 515 people were killed in Tuesday's earthquake in the same province, officials said on Friday.
The death toll from Saturday's aftershock may rise, said Khan Wasey, the spokesman for the paramilitary Frontier Corps.
Aid deliveries have been complicated by the fact the remote region is home to separatist insurgents who fear the army, which is overseeing aid operations, may take advantage of the crisis to move more forces into the area.
On Saturday, four soldiers were killed when insurgents attacked an aid convoy being escorted by government forces, an army spokesman said. The insurgents have twice fired on helicopters carrying aid workers or supplies.
The Baluch insurgents accuse military forces of human rights abuses and Pakistan of exploiting Baluchistan's mineral wealth while local people live in poverty. Human rights groups say the military frequently abducts and kills ethnic Baluch.
The rebels frequently attack the Pakistani armed forces and have also been responsible for executing civilians like teachers and doctors from other ethnic groups.