Moscow dispatches navy unit to Mideast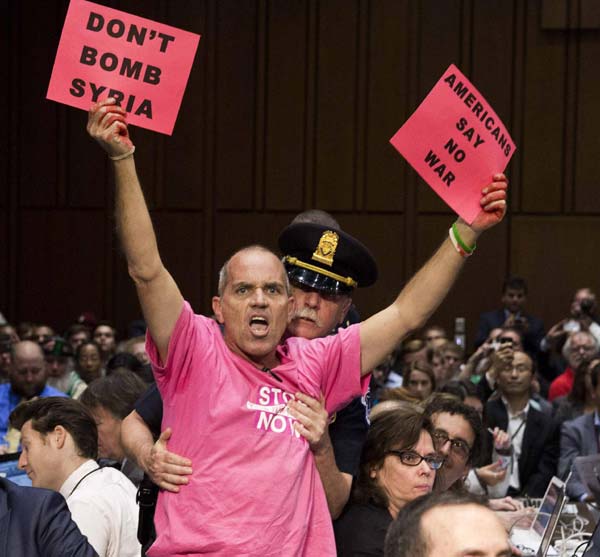 A protester waves signs during a foreign relations committee meeting for US military action against Syria in Washington. Joshua Roberts / Reuters
Russia is sending a missile cruiser to the east Mediterranean to take over the navy's operations in the region, state agency Interfax quoted a military source as saying on Wednesday, as the United States prepares for a possible military strike in Syria.
US President Barack Obama has won backing from key figures in the US Congress in his call for limited US strikes on Syria to punish President Bashar al-Assad for his alleged use of chemical weapons against civilians.
The ship, Moskva, will take over operations from a naval unit in the region that Moscow says is needed to protect national interests. It will be joined by a destroyer from Russia's Baltic Fleet and a frigate from the Black Sea Fleet.
"The cruiser Moskva is heading to the Gibraltar Straits. In approximately 10 days it will enter the east Mediterranean, where it will take over as the flagship of the naval task force," the source said.
Russia insists the conflict must be solved through political dialogue in which Assad must take part.
Meanwhile, demanded on Wednesday "convincing" proof that Syria used chemical weapons, even as he softened his tone toward the West ahead of this week's G-20 summit.
Putin, in an interview apparently aimed at presenting a more pragmatic face to the world ahead of the G-20 meeting in St Petersburg, said he did not exclude Russia agreeing to US-led military strikes if it was proved that Syria's government had carried out the Aug 21 attack.
But, he told state-run Channel One television, the West still needed to put forward airtight proof of the circumstances of the attack.
"If there is evidence that chemical weapons were used, and by the regular army, ... then this evidence must be presented to the UN Security Council. And it must be convincing," Putin said.
If there is clear proof of what weapons were used and who used them, Russia "will be ready to act in the most decisive and serious way", he added.
He stressed that it would be unacceptable for the West to go ahead with military action against Assad without the assent of the UN Security Council, on which Russia has veto-wielding permanent membership.
UN experts have taken samples from the sites of the alleged attacks, which are now being analyzed. However their mandate is only to determine if chemical weapons were used, not who may have used them.
Reuters-AFP