Irish poet Nobel winner Seamus Heaney dies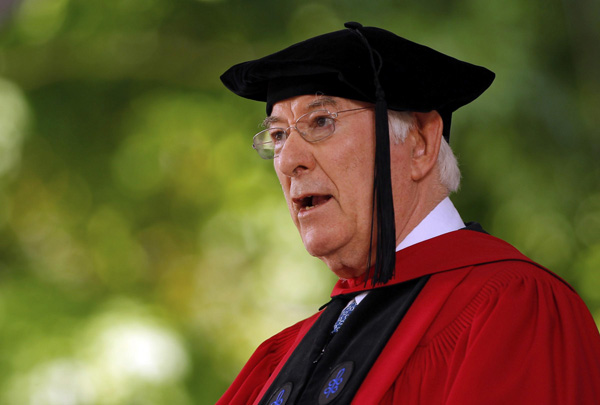 Nobel prize winning poet Seamus Heaney recites his poem "Villanelle for an Anniversary" during the 361st Commencement Exercises at Harvard University in Cambridge, Massachusetts, in this file photograph dated May 24, 2012. Seamus Heaney, one of the world's best-known poets and winner of the 1995 Nobel Prize for literature, has died aged 74, local media reported on August 30, 2013. [Photo/Agencies]
DUBLIN -- Seamus Heaney, Ireland's foremost poet who won the Nobel literature prize in 1995, has died after a half-century exploring the wild beauty of Ireland and the political torment within the nation's soul. He was 74.
Heaney's family and publisher, Faber & Faber, say in a statement that Heaney died Friday in a Dublin hospital.
The Northern Ireland-born Heaney was widely considered Ireland's greatest poet since William Butler Yeats. Over a half-century career he wrote 13 collections of poetry, two plays, four prose works on the process of poetry, and many other works.
He toured universities worldwide following his 1995 Nobel win but curtailed his work following a 2006 stroke.
Funeral arrangements have not been announced.