US Nobel laureate sees similar success for China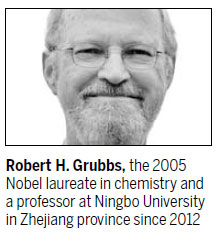 Robert H. Grubbs, the 2005 Nobel laureate in chemistry, believes that Chinese scientists will win a Nobel Prize before 2033, given the country's investment in research and development.
"After the 1960s, the United States invested a lot in education and research. Thirty years after, many scientists won Nobel Prizes, including myself," Grubbs said. "I believe after 20 years, if not sooner, many Chinese scientists could win Nobel Prizes because China made a significant amount of investment in education and technology in recent years."
Grubbs, a professor at Ningbo University in Zhejiang province since 2012, was attracted by the Recruitment Program of Foreign Experts (2011-20), which aims to recruit 1,000 foreign professionals to enhance China's development.

Today's Top News
Editor's picks
Most Viewed