Palace: Prince William's wife Kate in labor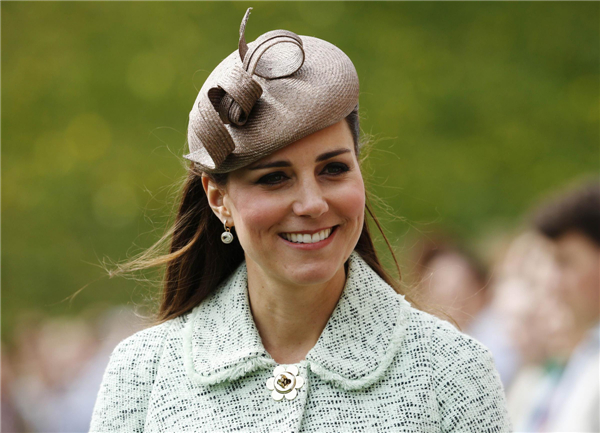 Britain's Catherine, Duchess of Cambridge attends the National Review of Queen's Scouts at Windsor Castle in Berkshire, near London in this April 21, 2013 file photo. Prince William's pregnant wife Kate has been taken to hospital ahead of the birth of the couple's first child who will be third in line to the British throne, his office said on July 22, 2013. Kate was taken to the private Lindo wing of St Mary's Hospital in Paddington, west London, where William himself was born in 1982. [Photo/Agencies]
LONDON - Prince William's wife, Kate, has been admitted to the hospital in the early stages of labor on Monday, palace officials said.
Royal officials said that Kate travelled by car to St. Mary's Hospital in central London with Prince William. Kate - also known as the Duchess of Cambridge - is expected to give birth in the private Lindo Wing of the hospital, where Princess Diana gave birth to William and his younger brother, Prince Harry. She will be looked after by a top-notch medical team led by royal gynecologist Dr. Marcus Setchell.
Kate and William, who spent the weekend at Kensington Palace, traveled to the hospital without a police escort just before 6 am, their spokesman said.
He added that "Things are progressing as normal."
The baby will be third in line for the British throne, and should eventually succeed grandfather Charles and father William as king or queen of Britain and 15 other countries including Canada and Australia.
But little else is known about the eagerly awaited royal baby, from how it will arrive to its gender or its name.
Kate - formally known as the Duchess of Cambridge - is expected to deliver in the private Lindo Wing of the hospital, where Princess Diana gave birth to William and his younger brother, Prince Harry. It is not clear if she will have a natural birth or deliver by a planned cesarean section.
Royal watchers must wait to be told of the baby's arrival from the palace, which is planning to reveal the news through a mixture of tradition and social media.
Palace officials have said that the first hint will come when a royal aide emerges from the hospital with a signed bulletin carrying the Buckingham Palace letterhead. The bulletin will be given to an official who will be driven to Buckingham Palace, where it will be posted on an easel in public view in front of the building.
At the same time the bulletin is posted, there will be an official announcement on Twitter and the media will be formally notified. The document will give the baby's gender, weight and time of birth.
It could be some time before the baby's name is made public. When William was born, a week passed before his name was announced. Charles's name remained a mystery for an entire month.
But it is the baby's gender that is of particular interest because the prospect of Kate's pregnancy prompted a change to laws of succession to ensure a daughter would not be passed over for the crown by a younger brother. Boy or girl, the child will be third in line to the throne and the prospective future monarch.
The birth of a new heir to the throne has been breathlessly anticipated since William and Kate wed on April 29, 2011, in a lavish ceremony at Westminster Abbey.
When news of a royal pregnancy was announced, there was rejoicing in many households in Britain and throughout the world.
Despite a rough start to the pregnancy, when she was hospitalized for acute morning sickness, the 31-year-old Kate made a number of public appearances that were halted only near the end of her term.
Since the duchess has cut back on her royal duties, media outlets have been clamoring for position outside of the hospital in anticipation of the birth, jockeying to secure the best vantage point for filming William and Kate emerging, babe in arms.
Officials have said that William plans to take two weeks' paternity leave and then return to his military duties as a search-and-rescue helicopter pilot in Wales.
His tour of duty is scheduled to wrap up around September, and he and Kate are expected to move from their isolated cottage on the island of Anglesey off the coast of Wales to Kensington Palace in central London.
But major refurbishment works at the palace likely won't be finished until at least a month or two after the infant is born - meaning that William and Kate will most likely have to make do with their current temporary home in London, a two-bedroom property at the palace.
Come autumn, however, the family will be able to move into their permanent London home, Apartment 1a at Kensington Palace - a four-story house with a nursery, 20 rooms and a private garden.