Royals 'waiting by telephone' for Kate's baby
LONDON - Members of Britain's royal family were "waiting by the telephone" for word of the imminent birth of Prince William and his wife Kate's first child, expected this week amid a heatwave in London and rising royal baby fever.
Photographers and TV crews from Britain, the United States, Canada, Australia, Japan and China, have been outside St Mary's Hospital in London since July 1 waiting for the couple's first child who, regardless of sex, will be third-in-line to the throne.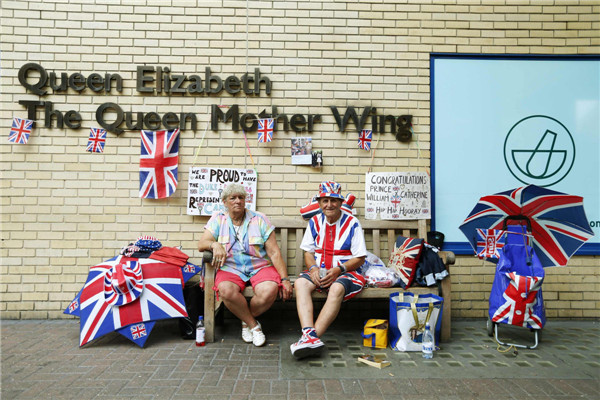 Royal fans sit outside St Mary's Hospital opposite the Lindo wing in anticipation of the birth of Catherine, Duchess of Cambridge's, first baby in central London, July 16, 2013. [Photo/Agencies]
Royal officials have remained vague on the due date, only saying mid-July, but there was a noticeable rise in anticipation on Tuesday following remarks by Camilla, the wife of William's father and heir-to-the-throne Prince Charles.
"Hopefully by the end of the week, he or she will be there," Camilla said during an official visit in southwest England. "We are all just waiting by the telephone."
As the days of waiting for the new royal heir have rolled into weeks, rumours have sped around the Internet and via Twitter where an account has been set up for the Royal Foetus and the hashtag GreatKateWait is widely used.
The waiting game has proved a boon for bookmakers offering odds on the date of the birth and for public relations companies pulling royal-related stunts to capture the interest of bored journalists looking to fill the time and publication pages.
One bookmaker sent four oversized toddlers with crowns to Buckingham Palace while US TV station NBC stuck a sweepstake on a wall by the hospital for bets on the arrival date.
On Tuesday, a photo of William and Kate lookalikes pushing a pram in a park splashed the front page of one British newspaper.