New front opens in Syria against al Qaida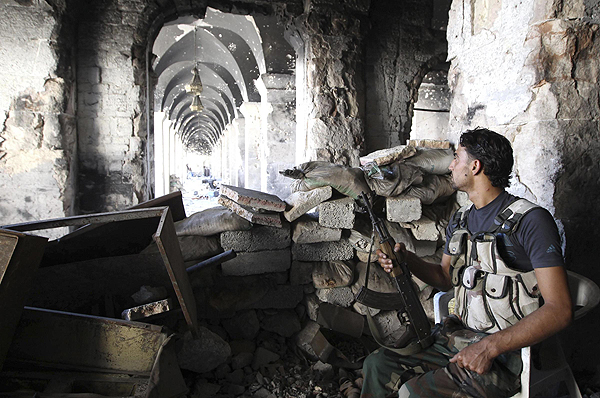 A Free Syrian Army fighter sits on a chair as he holds his weapon inside the Grand Umayyad mosque in Aleppo July 8, 2013. [Photo/Agencies]
Beirut - Syrian rebels said on Friday the assassination of one of their top commanders by al Qaida-linked militants was tantamount to a declaration of war, opening a new front for the Western-backed fighters struggling against President Bashar al-Assad's forces.
Rivalries have been growing between the Free Syrian Army (FSA) and the Islamists, whose smaller but more effective forces control most of the rebel-held parts of northern Syria more than two years after pro-democracy protests became an uprising.
"We will not let them get away with it because they want to target us," a senior FSA commander said on condition of anonymity after members of the Islamic State of Iraq and Levant killed Kamal Hamami on Thursday.
"We are going to wipe the floor with them," he said.
Hamami, also known by his nom de guerre, Abu Bassir al-Ladkani, is one of the top 30 figures on the FSA's Supreme Military Command. His killing highlights how the West's vision of a future, democratic Syria is unravelling.
Assad appeared close to defeat a year ago when rebels killed top officials in a bomb attack and pushed deep into Damascus.
Now, with military and financial support from Russia and Iran, he has pushed the rebels back to the outskirts of the capital and put them on the defensive in the south while radical Islamists assert control over the north.
The FSA commander said the al Qaeda-linked militants had warned FSA rebels that there was "no place" for them where Hamami was killed in Latakia province, a northern rural region of Syria bordering Turkey where Islamist groups are powerful.
Other opposition sources said the killing followed a dispute between Hamami's forces and the Islamic State over control of a strategic checkpoint in Latakia and would lead to fighting.