Syria conference unlikely to be in July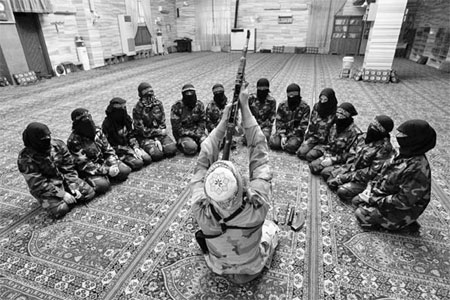 Abu al-Taib, the leader of the rebel Ahbab Al-Mustafa Battalion, demonstrates a rifle to female members during military training in a mosque in the Seif El Dawla neighborhood in Aleppo, Syria, on Monday. Muzaffar Salman / Reuters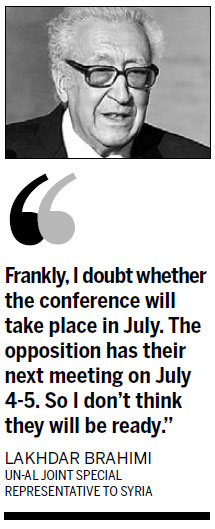 International mediator Lakhdar Brahimi said on Tuesday that a conference on ending the war in Syria was unlikely to take place in July as he had hoped, and called on the United States and Russia to help contain the conflict.
Brahimi, joint special representative of the United Nations and Arab League, was speaking to reporters in Geneva before holding talks with senior US and Russian officials. He said he expected these to be "constructive" but unlikely to resolve all questions linked to convening a conference on Syria's future.
"Frankly, I doubt whether the conference will take place in July. The opposition has their next meeting on July 4-5. So I don't think they will be ready," Brahimi said.
"I very, very much hope that the governments in the region and the big powers - in particular the US and Russia - will act to contain this situation that is getting out of hand, not only in Syria but also in the region," he said.
It was the second time high-ranking officials from the three parties held a tripartite meeting to discuss preparation work for an international conference on Syria that was initiated by Russia and the US.
"We will resume our discussions that we started here on June 5. Fundamentally, we will be assessing what needs to be done by us, the three parties that are participating in this meeting, as well as by others to create the right conditions for the Geneva Conference on Syria to take place with the best chance of success. When would be the best time for the conference to take place, who should participate in it, and how should it be structured are some of the questions that we will discuss," Brahimi said.
He was confident the discussion would be constructive and they would make progress, but the joint special representative for Syria noted that he could not be certain all those questions would be resolved.
Brahimi expressed deep concern at the deadliest outbreak of violence in Lebanon since the start of the Syrian conflict in 2011.
"Events in the city of Sidon in Lebanon yesterday, where over 50 people were killed, are a stern reminder to all of the risks of the conflict in Syria spreading across borders to neighboring countries," he said.
The previous tripartite meeting, held on June 5, failed to set a date for the Syrian peace talks. After that meeting, Brahimi said it would not be possible for the international conference on Syria to be held in June, but consultations would continue with Russia and the US to see "windows of opportunities" to hold the international conference as soon as possible, hopefully in July.
Meanwhile, US President Barack Obama and Turkish Prime Minister Tayyip Erdogan discussed the Syrian situation in a phone call on Monday, "including the regime's use of chemical weapons against its own people", the White House said in a statement on Tuesday.
Reuters-Xinhua
(China Daily 06/26/2013 page11)