Asiana takes out apology ad in Chinese media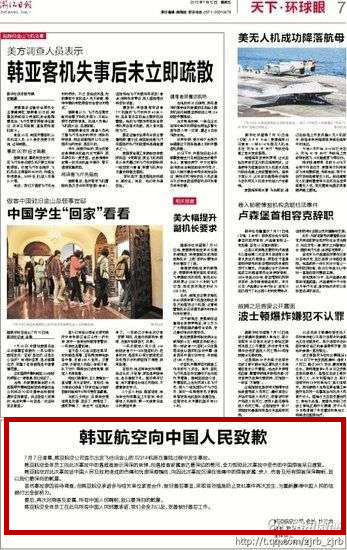 A screenshot of Zhejiang Daily, which published the apology from Asiana Airlines for the crash on Friday.
Asiana Airlines has paid for apology advertisements in Chinese newspapers to offer condolences for the San Francisco crash which killed two Chinese passengers and injured more than 180 others, Zhejiang Daily reported Friday.
Beijing Youth Daily and Zhejiang Daily both published the apology from Asiana Airlines in Chinese on Friday.

"Staff members from Asiana Airlines would like express their condolences for the victims of the crash and convey its best wishes for the families of the victims," the airline advertisement read. "We will try our best to help the injured Chinese passengers recover."
"We at Asiana Airlines would like express our utmost sympathy and regret for the distress experienced by the Chinese people and government," the airline said. "We apologize most deeply for the passengers of flight 214 and their families as a result of this accident."
"Although the cause of the accident is still under investigation, Asiana Airlines promises to closely cooperate with related institutions in the ongoing investigation," the statement added. "We will take effective measures to prevent such accident from happening, and make an all-out effort to regain the trust of the Chinese people."