2013 Paris Air Show ends with fat orders
PARIS - The Paris Air Show had a happy ending Sunday after global aviation industry players harvested a slew of contracts worth $100 billion.
Fierce competition among world leading planemakers was felt from the very beginning of the week-long show at Le Bourget airport.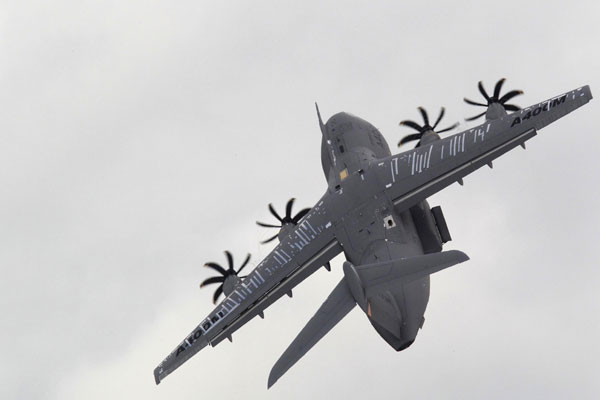 An Airbus A400M military aircraft participates in a flying display during the 50th Paris Air Show at the Le Bourget airport near Paris, June 23, 2013. [Photo/Agencies]
The world's two giant aircraft manufacturers, Airbus and Boeing, continued their games to vie for the spotlight and woo customers.
Results showed that European aerospace heavyweight Airbus slightly outperformed Boeing, the US aviation giant, in sales ahead of the closure of the first four days of the show dedicated to potential customers.
Airbus claimed to have pocketed orders worth 68.7 billion dollars. It received commitments for 466 aircraft, 241 of which were in firm purchase orders.
By comparison, Boeing announced orders worth 66 billion dollars with orders and commitments for 442 aircraft.
The battle between Boeing and Airbus in the lucrative market for long-haul planes has dominated this year's event as these models offer planemakers the biggest profit margin.
Airbus used its new fuel-efficient A350s to compete with Boeing 787s and 777s.
All of the new plane models are made of lighter composite materials which help reduce fuel consumption and pollution.
The A350 XWB has successfully completed its second test flight on Wednesday at the show, which brought the company $21.4 billion worth of orders and commitments from four customers.
Meanwhile, Boeing launched its latest model, the 787-10 Dreamliner this year with orders and commitments for 102 aircraft from five customers from Europe, Asia and North America at a cost of $34.3 billion.
Boeing considers its new orders a pick-up for its 787 Dreamliner which was grounded for several months this year due to battery problems.
"Our ongoing investment in the 787 family is well-founded," said Boeing Commercial Airplanes President and CEO Ray Conner.
Analysts said the booming orders for long-haul aircraft came as the global economy shows signs of recovery, while the demand by some airlines are growing as they look to renew their fleets.
At this year's show, small aviation competitors also performed well.
ATR, a European joint venture, won orders of 55 planes in a deal worth 2.1 billion dollars. Brazil's Embraer, which makes smaller-capacity commercial planes, successfully launched its new generation of regional jets at the show, gaining an order of 215 new planes and commitments of 165. Canadian Bombardier also announced dozens of orders in two separate deals worth $1.3 billion.