US surveillance to overshadow Obama's Berlin trip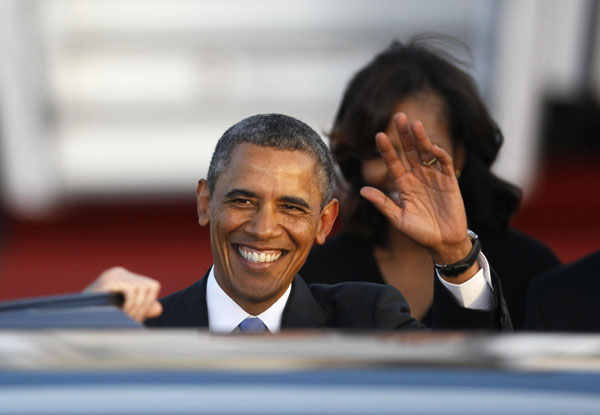 US President Barack Obama waves as he arrives with his wife Michelle (right) at Tegel airport in Berlin June 18, 2013.[Photo/Agencies]
BERLIN - US President Barack Obama's visit to Germany on Tuesday and Wednesday is expected to be overshadowed by public outcry over concerns about intrusion into privacy after reports on the American online surveillance program.
German Chancellor Angela Merkel has said she would discuss with Obama on the scale of American online surveillance and call for more transparency over the issue, which caused deep unease in the privacy-sensitive German society.
Under a highly classified program disclosed by media recently, the US National Security Agency and the Federal Bureau of Investigation have been tapping directly into the central servers of nine US internet companies, enabling analysts to track a person's movements and contacts over time.
Obama insisted that the surveillance program was purely aimed at thwarting terror attacks.
Merkel told broadcaster RTL in a recent interview that she was surprised by the program, saying that the German people want to know if their online data was being monitored by the US National Security Agency.
Obama is set to visit Germany after attending the G8 summit in Northern Ireland. The highlight of his visit will be a speech on Wednesday before 4,000 people at the Brandenburg Gate, 50 years after John F. Kennedy made the famous "Ich bin ein Berliner" address at the same site.
The president is also expected to highlight the planned Transatlantic Trade and Investment Partnership (TTIP) between his country and the European Union (EU).
He said at the G8 summit that the partnership was of economic and strategic importance and one that his administration would treat as a priority. Negotiations on the trade deal between Washington and the EU will begin next month.
Obama visited the German capital in 2008 and gave a speech at the Victory Column in central Berlin during his presidential election campaign.