Australia to replicate full-sized Forbidden City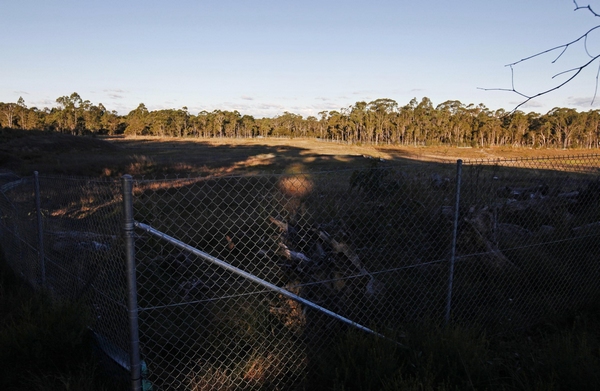 A fence is seen on the land where a a full-size replica of Beijing's Forbidden City will be built, in the Wyong region near Sydney June 16, 2013. Australia's coastal Wyong region outside Sydney, a pretty stretch of pristine beaches and wildlife-filled wetlands, isn't high on the travel agenda of most Chinese tourists. But the local mayor and a Chinese businessman have big plans to change that - by building a A$500 million ($480 million) theme park that will include the Forbidden City replica and a nine-storey temple housing a giant Buddha. Picture taken June 16, 2013.[Photo/Agencies]
SYDNEY - Australia's coastal Wyong region outside Sydney, a pretty stretch of pristine beaches and wildlife-filled wetlands, isn't high on the travel agenda of most Chinese tourists.
But the local mayor and a Chinese businessman have big plans to change that - by building a A$500 million ($480 million) theme park that will include a full-size replica of Beijing's Forbidden City and a nine-storey temple housing a giant Buddha.
"We were the fourth or fifth (local government) council they approached after everybody else laughed in their face," said Wyong Mayor Doug Eaton, who hopes to have the last laugh with a development projected to attract millions of Chinese tourists.
News of the park has already made headlines in China and the theory is it will attract visitors in a similar way to Americans travelling to EuroDisney - a familiar cultural icon in a new and exotic location. In the United States, there was a proposal last year to build a replica of the Great Wall on a mountain range overlooking Los Angeles, but it never got off the ground.
The Australian park, due to start construction next year, is one of the more unusual attempts by Australia to win a slice of the world's largest outbound tourism market as it looks for an economic boost to replace its fading mining boom.
As some economists voice concerns that Australia is at risk of falling into its first recession in 22 years, the nation is again turning to its biggest trading partner - this time targeting China's affluent globetrotters.
Chinese tourists spent $102 billion worldwide last year, according to the UN World Tourism Organization, contributing some A$3.8 billion to the Australian economy. Overall, direct tourism contributes A$41 billion, or 2.8 percent, of Australian gross domestic product and employs half a million people, according to the Australian Bureau of Statistics.
With an eye on the revenue prize, Prime Minister Julia Gillard took a high-level delegation to China in April, announcing an annual trade and tourism fair and agreeing to make the Australia dollar only the third currency to be directly traded against the yuan after the US dollar and the Japanese yen.
Australian travel agents say Chinese visitors are initially sold on the country by images of wide open skies, a rugged outback, unique wildlife and outdoor pursuits. But the reality is they want casinos, not koalas.
"The behaviour is different to the motivation," said Andrew McEvoy, head of peak tourism body Destination Australia. "They arrive here and find nature in the city and the highlights for them are shopping, dining and gaming or entertainment."
Liu Jiaxuan, a visitor from northeastern China in her mid-20s, planned to spend most of her 10-day stay in Sydney and Melbourne.
"I am very interested in those small cafes, small galleries, you know, those places with a distinct individuality," said Liu, strolling near Sydney's waterfront Opera House.
Shopping was also a must-do on her list despite the strong Australian dollar: "We've been to Japan, South Korea, Hong Kong but the duty-free shops here have better prices."
Businesses are getting on board.
Australia's second-largest department store, David Jones, last month launched a partnership with UnionPay, China's dominant payment card supplier.
Global hotel operator Accor, which operates chains including Sofitel, Novotel and Ibis, is putting Chinese dishes on menus, providing Chinese newspapers and TV stations and training staff in cultural differences.