G8 kicks off amid controversy
Amid the biggest security operation ever mounted in Northern Ireland, the G8 Summit kicked off on Monday.
British Prime Minister David Cameron made clear that his key priorities for the two-day summit are economic issues, including a planned EU-US free trade deal and measures to crack down on tax havens.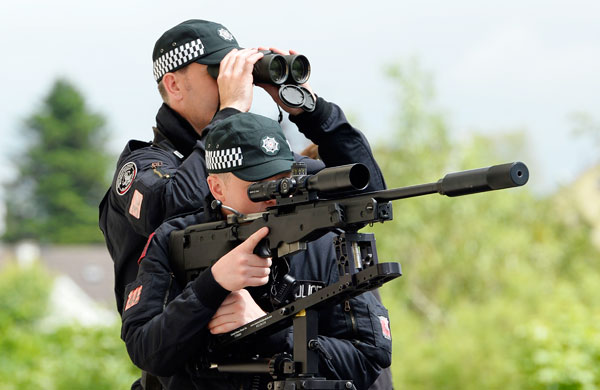 Police scan an area as US President Barack Obama and British Prime Minister David Cameron visit the Enniskillen Integrated Primary School in Enniskillen, Northern Ireland, on Monday. JEWEL SAMAD / Agence France-Presse
However, a surveillance scheme conducted by the US intelligence community has attracted more and more attention all over the world, especially as the G8 Summit convenes.
The surveillance program, disclosed by former CIA employee Edward Snowden to the media last week, has sparked an outcry in Europe and the world over concerns about intrusion into the privacy of individuals.
What's more, Snowden also revealed that Britain spied on G20 delegates from other member nations at a London summit in 2009, the Guardian reported on Monday.
Britain used "groundbreaking intelligence capabilities" to monitor communications between officials at the two meetings in April and September of 2009, the newspaper reported.
Among the officials targeted were delegates from NATO ally Turkey and from South Africa.
For Britain, the latest revelations are likely to be an embarrassment.
US President Barack Obama, who arrived in Northern Ireland with his family on Monday morning, will defend the secretive Internet surveillance program when he meets leaders of the G8 countries, the White House said on Friday.
"He'll be able to discuss with the other leaders the importance of these programs, in terms of our counterterrorism efforts in particular, the constraints and safeguards that we place on these programs so that they have oversight against potential abuses," said Ben Rhodes, Obama's deputy national security adviser for strategic communications.
"And all of these countries at the G8 are important counterterrorism partners.
"And together, we've worked with them on an intelligence and security relationship to foil terrorist attacks in the US and in Europe," Rhodes added.
Under the highly classified program, code-named PRISM, the US National Security Agency and the Federal Bureau of Investigation have been tapping directly into the central servers of nine US internet companies, extracting audio, video, photographs, e-mails, documents and connection logs that enable analysts to track a person's movements and contacts over time.
Snowden fled the US for Hong Kong last week. The FBI is currently searching for him, as the US Justice Department prepares charges against him.
It's notable that Britain has cooperated closely with the US in the intelligence sector. The British government has warned airlines around the world not to allow Snowden to fly to the UK.