'Big difference' between Russia,UK in Syria crisis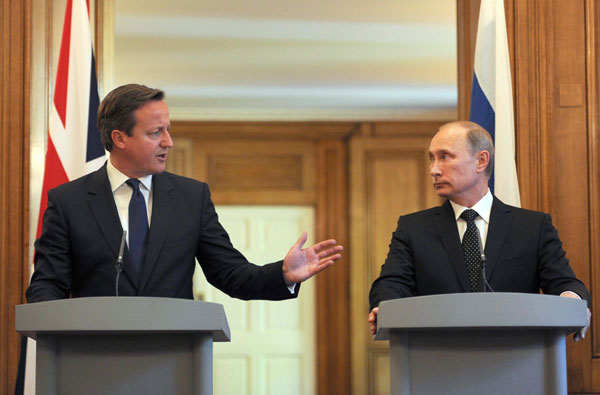 Britain's Prime Minister David Cameron (left) and Russia's President Vladimir Putin hold a joint news conference in 10 Downing Street, central London June 16, 2013. The two leaders met ahead of the G8 summit in Northern Ireland.[Photo/Agencies]
LONDON - British Prime Minister David Cameron said in London on Sunday that there was a "very big difference" in the Russian and British view of who was to blame in the Syrian crisis.
Cameron made the remarks after meeting Russian President Vladimir Putin at Downing Street ahead of the G8 summit in Lough Erne, Northern Ireland.
Despite the disagreements over Syria, Cameron said that the two leaders both wanted to keep Syria intact and get a transitional government in place.
He said, "What I take from our conversation today is that we can overcome these differences if we recognise that we share some fundamental aims: to end the conflict, to stop Syria breaking apart, to let the Syrian people decide who governs them and to take the fight to the extremists and defeat them."
Putin said "blood is on the hands" of both the Syrian government and the rebels.
He said the behavior of some rebels, who "eat the organs" of their enemies, went against the "humanitarian and cultural values" of Europe.
Cameron said: "We will use the opportunity of having G8 leaders together to try and build on this common ground."
The two leaders agreed that the conflict could only "be resolved by political and diplomatic means".
The G8 summit will be held on Monday and Tuesday with the participating of Canada, France, Germany, Italy, Japan, Russia, the United States and Britain.