US vows military aid for Syria rebels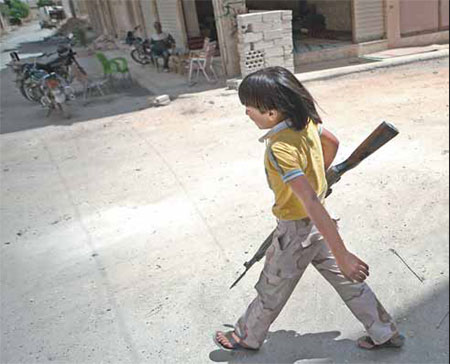 A young Syrian boy holds an old rifle as he helps fighters belonging to the "Martyrs of Maaret al-Numan" battalion on Thursday in the southern Syrian town of Maaret al-Numan in Idlib province. At least 93,000 people, including 6,500 children, have been killed in Syria's civil conflict, the United Nations said. Daniel Leal-Olivas / Agence France-Presse
Damascus accuses Washington of using 'cheap tactics'
The United States has dramatically toughened its line on Syria, accusing it of using chemical weapons and promising military aid to rebel forces, as Damascus on Friday slammed the allegation as "lies".
The US decision to begin arming the rebels, though details have not been completed, marks a deepening of US involvement in Syria's two-year civil conflict. It comes as President Bashar al-Assad's forces have been scoring victories, driving rebels out of a key town near the Lebanese border and launching offensives in the center and north, targeting Aleppo, the nation's largest city.
US President Barack Obama's administration announced it had reviewed intelligence reports and concluded that Syrian government forces had used banned arms, including sarin nerve gas, in attacks that killed up to 150 people.
US officials refused to rule out moving toward arming rebels or imposing a no-fly zone, and said Washington would provide backing to the Syrian Military Council armed opposition.
"The president has made a decision about providing more support to the opposition. That will involve providing direct support to the SMC. That includes military support," deputy national security adviser Ben Rhodes said, declining to elaborate.
Syria dismissed the US accusation as "a statement full of lies about the use of chemical weapons in Syria, based on fabricated information", state news agency SANA quoted a foreign ministry official as saying.
"The United States is using cheap tactics to justify President Barack Obama's decision to arm the Syrian opposition," he said.
The Wall Street Journal reported that US military proposals include a limited no-fly zone over rebel training camps.
This zone would stretch up to 40 km into Syria, and would be enforced by warplanes inside Jordan airspace armed with long-distance air-to-air missiles, the Journal reported, citing unnamed US officials.
The New York Times cited unnamed US officials as saying weapons for the rebels would include small arms and ammunition and anti-tank weapons but not anti-aircraft weapons.
Syria's main opposition National Coalition said that it "welcomes increased US assistance including direct military support".
"The support should be strategic and decisive in order to force an end to the violence and to achieve a political transition," it said.
The commander of the main Western-backed rebel group fighting in Syria said he hoped that US weapons will be in the hands of rebels in the near future.
"We hope to have the weapons and ammunition that we need in the near future," General Salim Idris said.
Hawkish US lawmakers welcomed the Obama administration's change in position but Senator John McCain said the president needed to go further.
"We need heavy weaponry. We need the kind that can counter tanks, and we need surface-to-air missiles," McCain said.
Military experts have long warned that a no-fly zone would require jets to destroy Syrian air defenses, but US planners believe it could be imposed in about a month without having to do that.
A US defense official had previously said Washington will keep F-16 fighters and Patriot anti-missile batteries in Jordan after a joint exercise ends this month.
The military also plans to keep US marines on amphibious ships after consultations with Jordan's leadership, he said.
With the conflict escalating, the United Nations in Geneva said at least 93,000 people, including more than 6,500 children, have been killed.
The UN also said in a statement from Damascus that more than 1.2 million people there were "in urgent need of humanitarian assistance" in Damascus province.
AFP-AP
(China Daily 06/15/2013 page8)
Today's Top News
Editor's picks
Most Viewed