US NSA chief defends surveillance programs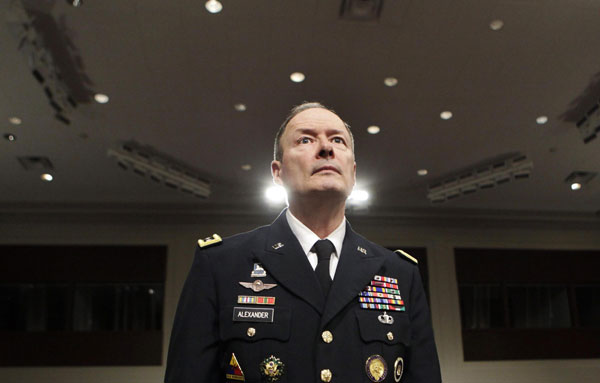 General Keith Alexander, commander of the US Cyber Command, director of the National Security Agency (NSA) and chief of the Central Security Service (CSS), arrives at the Senate Appropriations Committee hearing on Cybersecurity: Preparing for and Responding to the Enduring Threat, on Capitol Hill in Washington June 12, 2013. [Photo/Agencies]
WASHINGTON - The classified phone and internet surveillance programs, which sparked controversy in the recent week, have prevented dozens of terrorist plots, the US National Security Agency (NSA) chief Keith Alexander claimed Wednesday, promising to disclose more details within next week.
Speaking at a Senate panel hearing, Alexander said there were "dozens of terrorist events" that these programs have helped prevent.
He said it was his "intent" to release more specific information about the number of attacks foiled by secret programs collecting data on telephone and Internet records to both lawmakers and Americans within the next week.
Alexander was also pressed about how Edward Snowden was able to get access to information leaked to journalists. The NSA chief said the agency would need to look again at access and its hiring processes.
The two NSA programs were revealed last week after leaks from 29-year-old defense contractor Edward Snowden.
Officials have argued the programs strike the correct balance between privacy and national security. They've also said that the PRISM Internet surveillance program helped to thwart plots, including the one to bomb New York's subways in 2009.
However, Senator Mark Udall, a member of the Senate Intelligence Committee, said last week there was no proof that the NSA's collection of phone records has helped thwart any terror plots.
According to the Guardian and the Washington Post reports last Thursday, the NSA and the FBI had been secretly tapping directly into the central servers of nine US internet companies, extracting audio, video, photographs, e-mails, documents and connection logs that enable analysts to track a person's movements and contacts over time.
The technology companies that participated in the programs reportedly include Microsoft, Yahoo, Google, Facebook, PalTalk, AOL, Skype, YouTube and Apple.
Google and other major Internet companies denied news reports that they have given the NSA direct access to their servers to mine users' data and asked the government to disclose more details about the national security request for its users' data.