NSA leaker is free man in HK-for now
HONG KONG - Edward Snowden, an American who has leaked details of top-secret US surveillance programmes and is believed to be in Hong Kong, is technically free to leave the city at any time, local lawyers said on Wednesday, and one suggested he probably should.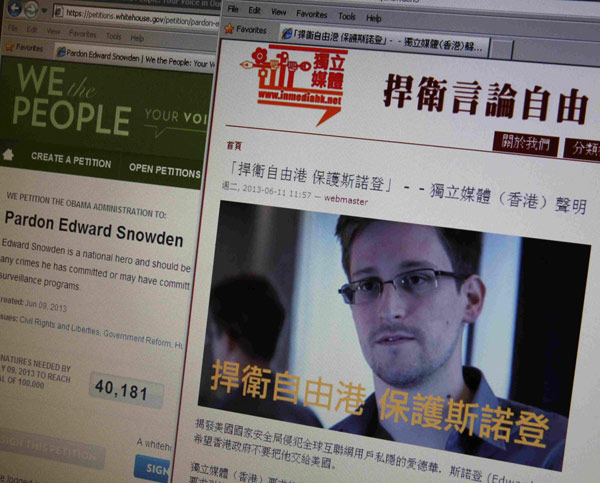 A statement by Hong Kong online media "In Media Hong Kong" supporting Edward Snowden, a contractor at the National Security Agency (NSA), is displayed alongside a petition to "Pardon Edward Snowden" on a White House website, on a computer screen in Hong Kong in this June 12, 2013 illustration photo. [Photo/Agencies]
Snowden has not been charged by the US government nor is he the subject of an extradition request. If Washington asks for his extradition, it will be decided in court, where Snowden could argue to stay, the experts said.
But his best option may be to get out quickly, if he has not already done so, one lawyer said.
"If I was him, I'd be getting out of here and heading to a sympathetic jurisdiction as fast as possible and certainly before the United States issues a request for his extradition," said barrister Kevin Egan, who has dealt with extradition cases in the city.
"The attitude of the judiciary here seems to be if Uncle Sam wants you, Uncle Sam will get you."
So far, there's been no indication of any moves by Hong Kong law enforcement to approach or question Snowden, last known to have checked out of a luxury hotel in the city's Kowloon district on Monday.
The Security Bureau declined comment, while the Hong Kong government has said generally it will act in accordance with the law.
"In strictly legal terms he's free to go, but government bodies can always find an excuse to temporize, or stop him," said Jonathan Acton-Bond, a barrister who has dealt with high-profile extradition cases in Hong Kong.
The US Justice Department is in the initial stages of a criminal investigation into the revelations, officials in Washington have said.
The key to Snowden's fate lies in the specific nature of any charges filed against him, if and when they are filed. It will then depend on whether, under Hong Kong law, he's also charged with a criminal act, without which authorities cannot arrest or take legal action against him.
"If they can't find the equivalent charge in Hong Kong, they can't extradite him," said barrister and legislator Ronny Tong, who added any protracted extradition battle could become a high-profile test of the city's rule of law in the face of political pressure.