Nine dead after Colombia tourist boat sinks in reservoir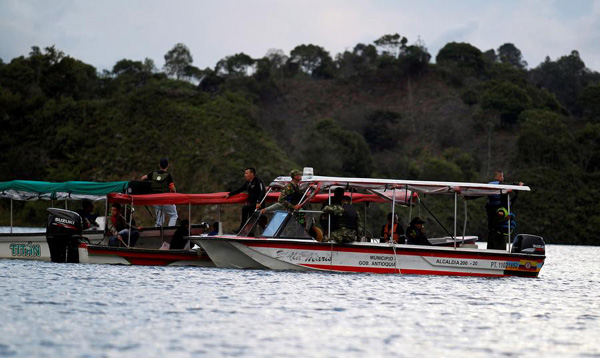 Rescuers search for victims after a tourist boat sanks with 150 passengers in the Guatape reservoir, Colombia, June 25, 2017. [Photo/Agencies]
BOGOTA - Nine people died and 28 are missing after a multi-decked tourist boat carrying about 170 passengers sank in Colombia's Penol-Guatape reservoir on Sunday during the long holiday weekend, a government official said.
Officials did not disclose the cause of the accident and provided few details.
Videos posted on social media showed motorboats coming to the aid of passengers on the upper decks as the boat rocked from side to side. Ninety-nine people were rescued, Margarita Moncada, the head of disaster relief for Antioquia province, told journalists.
"At the moment we have nine people found dead. Another 99 people were rescued immediately and 40 more got out on their own," she said.
Survivors on local television reports said they heard a loud noise before the boat began to sink and that not all of them had life jackets. Rescue operations were ongoing.
Rescue workers and the air force were helping passengers at the scene, President Juan Manuel Santos said in a Twitter post.
The large reservoir, about an hour from the central city of Medellin, is a popular tourist destination.
Reuters