Record unemployment underlines EU's pain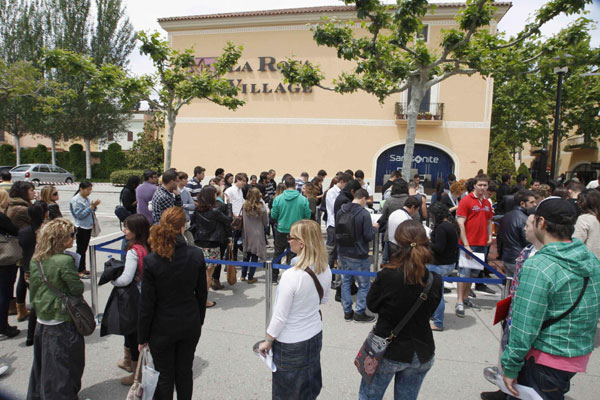 Job seekers line up to submit their resumes during an employment fair in La Roca Village, near Barcelona, in this May 21, 2013 file photo. [Photo/Agencies]
BRUSSELS - Unemployment has reached a new high in the euro zone and inflation remains well below the European Central Bank's target, underscoring just how severe a challenge EU leaders face to revive the bloc's sickly economy.
Joblessness in the 17-nation currency area rose to 12.2 percent in April, statistics agency Eurostat said on Friday, marking a new record since the data series began in 1995.
With the euro zone also in its longest recession since its creation in 1999, consumer price inflation was far below the ECB's target of just below 2 percent, coming in at 1.4 percent in May, slightly above April's 1.2 percent rate.
That rise may quieten concerns about deflation, but the deepening unemployment crisis is a threat to the social fabric of the euro zone, with almost two-thirds of young Greeks unable to find work exemplifying southern Europe's threat of creating a 'lost generation'.
Economists and policy makers have expressed concern that the greatest threat to the unity of the euro zone is now social breakdown from the crisis, rather than market-driven factors.
In France, Europe's second largest economy, the number of jobless rose to a record in April, while in Italy, the unemployment rate hit its highest level in at least 36 years, with 40 percent of young people out of work.
Some economists expect the ECB, which meets on June 6, to act to revive the economy and go beyond another interest rate cut to consider a U.S.-style money printing program known as quantitative easing.
"We do not expect a strong recovery in the euro zone," said Nick Matthews, a senior economist at Nomura International in London. "It puts pressure on the ECB to deliver even more conventional and non conventional measures."
In the past, the euro zone has needed economic growth of around 1.5 percent to create new jobs, according to Carsten Brzeski, an economist at ING. With the Organisation for Economic Cooperation and Development forecasting this week that the euro zone economy would contract by 0.6 percent this year, unemployment is set to worsen long before it turns around.
"We do not see a stabilization in unemployment before the middle of next year," said Frederik Ducrozet, an economist at Economist at Credit Agricole in Paris. "The picture in France is still deteriorating."