Syria receives first missiles from Russia
Assad tells TV station 'agreements with Moscow will be honored'
The Syrian president has told a Lebanese TV station that Damascus received the first shipment of Russian air defense missiles, according to remarks released on Thursday.
The TV station said when asked about the promised delivery of the S-300 surface-to-air missiles, Bashar al-Assad replied, "All the agreements with Russia will be honored and some already have been recently."
Israel's defense chief, Moshe Yaalon, said earlier this week that Russia's plan to supply Syria with the weapons is a threat and that Israel was prepared to use force to stop the delivery.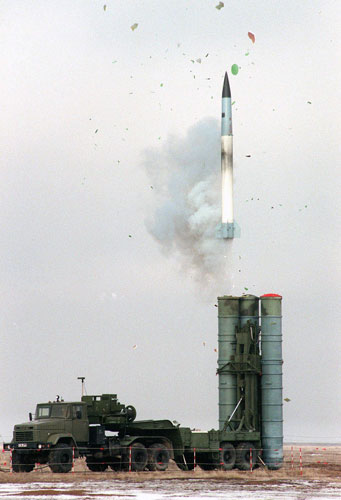 An S-300 surface-to-air missile is launched at the shooting range of Kapustin Yar near the city of Astrakhan in Russia in 1999. Provided by AFP
The Al-Manar TV released Assad's comment on the Russian missiles through its breaking news service to clients on Thursday morning. An official at the station also confirmed to The Associated Press that the remark was from the interview.
Assad's comment on the arrival of the long-range air defense missiles in Syria will further raise tensions in the region and undermine efforts to hold United Nations-sponsored talks with Syria's warring sides, the AP reported.
On Monday, the European Union lifted an arms embargo on Syria, paving the way for individual countries of the 27-member bloc to send weapons to rebels fighting to topple Assad's government. The move raised fears of an arms race in the Middle East.
However, the move may have little impact on the conflict since no single European country is expected to send lethal weapons to the rebels anytime soon.
The United Kingdom and France - the main military powers in the EU - had pushed for lifting the embargo. They have argued that Europe's threat of arming the rebels in the future would force Assad to negotiate in good faith.
But Russia harshly criticized Europe's decision to allow the arming of Syrian rebels, saying it undercuts international efforts to bring the opposing sides in Syrian conflict together for a peace conference.
Meanwhile, Israel has said that it does not want to provoke a military "escalation" with Syria, a Cabinet minister said on Thursday.
"There is no need to provoke an escalation, there is no need to heat up the border with Syria. That was not our objective, and it will never be," Israeli Energy and Water Minister Silvan Shalom told public radio.
Asked about Moscow's plans to supply S-300 missiles to Syria, Shalom said they would only become a problem if they fell into the wrong hands.
"Syria has had strategic weapons for years, but the problem arises when these arms fall into other hands and could be used against us. In that case, we would have to act," he said.
AP - Reuters -AFP