Japanese, 80, becomes oldest atop Qomolangma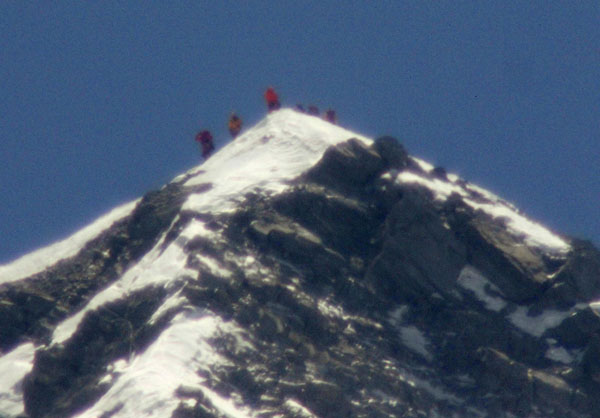 A team of climbers, including 80-year-old Japanese mountaineer Yuichiro Miura, stand on the summit of Qomolangma, in this photo taken by Kyodo May 23, 2013. Miura, who has had four heart surgeries, reached the top of Qomolangma on Thursday, becoming the oldest person to conquer the world's highest mountain. He took the standard southeast ridge route pioneered by Sir Edmund Hillary and Tenzing Norgay 60 years ago, reached the top of the 8,848 meter (29,028 feet) mountain at roughly 9:00 am local time (0300 GMT). He was accompanied by three other Japanese, including his son, and six Nepali sherpas. Mandatory Credit. [Photo/Agencies]
KATHMANDU - Eighty year-old Japanese Yuichiro Miura Thursday became the world's oldest person to reach Qomolangma(also known as  Mount Everest) summit.
"He climbed the world's highest at 9:15 am this morning securing new title," said Gyanendra Shrestha, an official at mountaineering department of the Ministry of Tourism and Civil Aviation.
The Japanese octogenarian claimed the title previously held by Nepali Min Bahadur Sherchan as the oldest to climb the mountain in November 2009.  
Earlier, Sherchan had replaced Miura in the Guinness World Records. Miura first climbed the peak in 2003 at the age of 70. He did it again in May 2008 when he was 75, but failed to set a record as he reached the summit a day after Sherchan achieved the same feat at age 76.
After the Japanese citizen announced to climb Qomolangma, Sherchan, who is now 82 years old, also intends to do so in the climbing season. If Sherchan manages to reach the top, the record set by Miura will be renewed. "Sherchan still is in the base camp of Qomolangma and preparing to climb," Shrestha told Xinhua.