Bangladesh factory disaster toll hits 362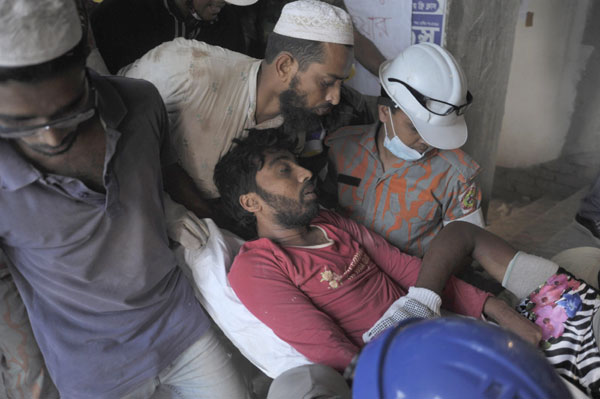 Rescuers remove a garment worker from the rubble of the collapsed Rana Plaza building in Savar, 30 km outside Dhaka on Sunday.[Photo/Agencies]
Bangladesh rescuers on Sunday located nine people alive inside the rubble of a multi-story building that collapsed five days ago, as authorities announced they will now use heavy equipment to drill a central hole from the top to find survivors and dead bodies.
At least 362 people are confirmed dead in the collapse of the eight-story building that housed five garment factories. The death toll is expected to rise further, but it is already the deadliest tragedy to hit Bangladesh's garment industry, which is worth $20 billion annually and is one of the mainstays of the economy.
Wednesday's collapse and previous disasters in garment factories have focused attention on the poor working conditions of workers who toil for as little as $38 a month to produce clothing for top international brands.
Army Major General Chowdhury Hasan Suhrawardy, the coordinator of the rescue operations, said they will try to save the nine people first by manually shifting concrete blocks with the help of light equipment such as pick axes and shovels.
"But if we fail we will start our next phase within hours", which would involve manual efforts as well as heavy equipment, including hydraulic cranes and cutters to bore a hole from the top of the collapsed building, he told reporters.
The purpose is to "continue the operation to recover both survivors and dead bodies. In this stage, we have no other choice but to use some heavy equipment. We will start it within a few hours. Manual operation and use of small equipment is not enough," he said.
The work will be carried out carefully so as not to mutilate bodies, he said. All the equipment is in place, "from a small blade to everything. We have engaged many private sector companies which supplied us equipment, even some heavy one."
In rare good news, a woman worker was pulled out alive on Sunday. Hasan Akbari, a rescuer, said when he tried to extricate a man next to the woman, "he said his body was being torn apart. So I had to let go. But God willing, we will be able to rescue him with more help very soon."
On Saturday, police took six people into custody, including three owners of two buildings who were placed under arrest. Also under detention are the wife of the building owner who is on the run and two government engineers who were involved in giving approval for the building design. The owner had the approval to construct five floors but he added three more illegally.
A huge crack appeared in the building, Rana Plaza, on Tuesday, but the owner, Mohammed Sohel Rana, assured tenants it was safe to go inside. A bank and some shops on the first floor shut their premises on Wednesday after police ordered an evacuation, but managers of the garment factories on the upper floor told workers to continue their shifts.
Hours later the Rana Plaza was reduced to rubble, and most victims were crushed by massive blocks of concrete and mortar falling on them.