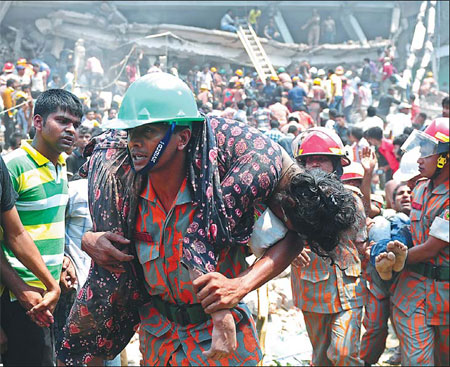 A Bangladeshi firefighter carries an injured worker after an eight-story building collapsed in Savar, on the outskirts of Dhaka, on Wednesday. At least 87 people have died and about 1,000 are injured. Munir UZ Zaman / Agence France-Presse
Eight-story structure contained several garment factories, thousands of workers
An eight-story building containing several garment factories and thousands of workers collapsed in Bangladesh on Wednesday, killing at least 87 people and trapping many more in the rubble.
The collapse stirred memories of a fatal fire at a garment factory in November on the outskirts of the country's capital, Dhaka, which killed 112 people and raised an outcry about safety in the nation's garment industry.
Only the ground floor of the Rana Plaza in Savar, just outside Dhaka, remained intact when the block - which one minister said was illegally constructed - collapsed at about 9 am local time.
Hundreds of fire department and army rescue workers worked with concrete cutters and cranes to find survivors in the mass of concrete and mangled steel, which resembled the aftermath of an earthquake.
Bodies and injured survivors were removed from the upper reaches of the pile of flattened floors with makeshift slides made from cloth, which just hours earlier was being cut into shirts and trousers for export to Western markets.
"The rescue work is going at full swing. But it'll take days to complete the task. It's a huge tragedy," said Zehadul Islam, a major in the fire department.
Hiralal Roy, a senior emergency ward doctor at nearby Enam Hospital, where victims were being taken, said at least 1,000 people were injured had been treated at the hospital.
"Most of the dead are garment workers. The toll will rise, as some of the injured are in critical condition," he said, adding that the hospital has appealed for emergency blood donations.
Some workers complained that the building had developed cracks on Tuesday evening, triggering an evacuation, but they had been made to return to the production lines.
Workers 'forced back'
"The managers forced us back, and just one hour after we entered the factory, the building collapsed with a huge noise," said a 24-year-old worker who gave her first name as Mousumi.
"I'm injured. But I've not found my husband, who was working on the fourth floor," she said.
Mousumi estimated that 5,000 people worked inside the building, which also housed apartments, a bank and shops.
The Bangladesh Garment Manufacturers and Exporters Association said that the factories in the building employed more than 2,600 workers.
Masuda Begum, 22, an operator, said from a bed at Rose Clinic in Savar that she survived by moving under a sewing machine as the roof fell in.
"The whole building was shaking just half an hour after we started work. There were hundreds of workers on our floor. Suddenly it became dark. A few of us managed to crawl out but I don't know what happened to the others," she said.
Home Minister Muhiuddin Khan said the building was illegal and violated the building codes. The huge death toll was likely to raise further questions about safety in the garment industry.
Bangladesh has the second-biggest clothing industry in the world, with nearly 4,000 garment factories, supplying to major Western brands, but it is plagued by regular accidents and demonstrations from workers demanding better wages and working conditions.
The fire at the Tazreen garment factory in November drew international attention to working conditions in Bangladesh's $20-billion-a-year textile industry.
Tazreen lacked emergency exits, and its owner said only three floors of the eight-story building were legally built. Surviving employees said gates had been locked and managers had told them to go back to work after the fire alarm went off.
The factory made clothes for Wal-Mart, Disney and other Western brands.
AFP-AP
(China Daily 04/25/2013 page10)