Pakistani court orders Musharraf's arrest
ISLAMABAD - A court in Pakistan on Thursday ordered arrest of former President Pervez Musharraf for detaining senior judges when he imposed emergency rule in 2007, local media reported.
The Islamabad High Court canceled his interim bail in the case and ordered his arrest. However, Musharraf fled the court with his security guards.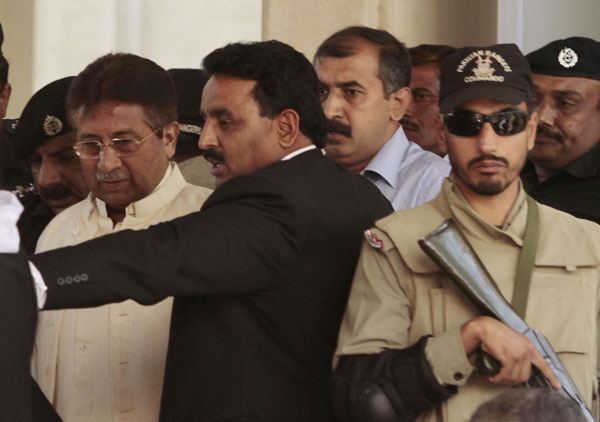 Pakistan's former President Pervez Musharraf (L) leaves after his appearance before the High Court in Rawalpindi, Pakistan, April 17, 2013. [Photo/Agencies]
A case had been filed against Musharraf for placing dozens of top judges under house arrest when he imposed emergency rule and suspended the constitution in November 2007. The judges had refused to take oath under his Provincial Constitutional Order.
A lower court had previously issued arrest warrant for Musharraf as he failed to appear before the court despite several orders.
Musharraf had then got a temporary bail and the Islamabad High Court extended the bail until April 18.
The Chief Justice of Islamabad High Court Shaukat Aziz Siddiqi canceled his bail when he appeared before the court on Thursday.
Musharraf was brought to the court in a bullet-proof jeep under tight security. Dozens of paramilitary soldiers and police were deployed to avoid clash between supporters and opponents of Musharraf.
Musharraf is facing other legal cases, including treason charges for imposing emergency rule, the 2007 assassination of former Premier Benazir Bhutto and the killing of a Baloch leader, Nawab Akbar Bugti in 2006.
Musharraf, who seized power in a coup in 1999 and resigned in August 2008 to avoid impeachment by the parliament, denied all charges and vowed to defend himself in courts.
He returned to Pakistan last month after over four years of self-imposed exile in Britain and the UAE to lead his All Pakistan Muslim League in the May 11 parliamentary elections.