Abbas slams Israel for not presenting negotiations' vision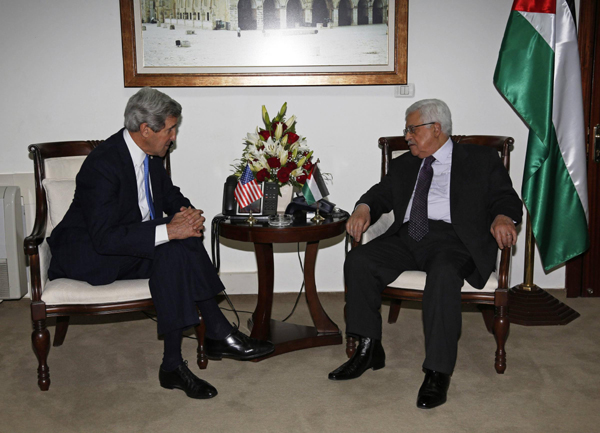 Palestinian President Mahmoud Abbas (R) meets with US Secretary of State John Kerry in the West Bank city of Ramallah April 7, 2013. [Photo/Agencies]
RAMALLAH - Palestinian President Mahmoud Abbas on Sunday slammed Israel for refusing to present its vision regarding the borders of the future Palestinian state.
Abbas made his protest during a meeting with US Secretary of State John Kerry in the West Bank city of Ramallah, a source told Xinhua.
"This doesn't help prepare for new peace negotiations between the two sides," Abbas said, adding that Israeli Prime Minister Benjamin Netanyahu "seems to be blocking the peace process and destroying the two-state solution through settlements".
Abbas stressed that the negotiations should resume.
The source said Kerry's efforts faced the first obstacle when Netanyahu refused to show his government vision for the process of the talks and halt settlement constructions in East Jerusalem.
Earlier in the day, a Palestinian official said the Palestinian leadership halted plans to join any UN organization to give time for Kerry's mission.
"Kerry asked for two months appointed time to move forward the peace process before we go to the UN organizations, and we have agreed on this," said Palestinian Foreign Affairs Minister Riad Al-Maliki.
"If Kerry fails in this, we will not abide by our commitments and will start moving toward the international organizations and specialized agencies" for membership and to sign international treaties, Al-Maliki told Voice of Palestine radio.