US F-22 jets join ROK drills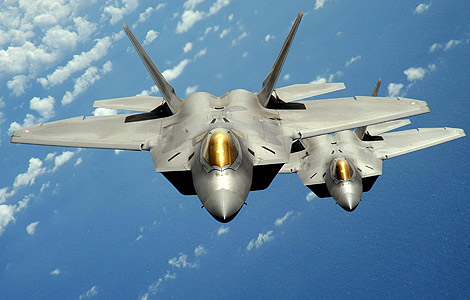 Two US Air Force F-22 Raptor stealth jet fighters fly near Andersen Air Force Base in Guam in this handout photo dated August 4, 2010.[Photo/Agencies]
WASHINGTON - The United States sent F-22 stealth fighter jets to the Republic of Korea on Sunday to join military drills aimed at underscoring the US commitment to defend Seoul in the face of an intensifying campaign of threats from the Democratic People's Republic of Korea.
The advanced, radar-evading F-22 Raptors were deployed to Osan Air Base, the main US Air Force base in the ROK, from Japan to support ongoing bilateral exercises, the US military command in the ROK said in a statement that the DPRK to restrain itself.
"(North Korea) will achieve nothing by threats or provocations, which will only further isolate North Korea and undermine international efforts to ensure peace and stability in Northeast Asia," the statement said.
In a rare US show of force aimed at the DPRK, the United States on Thursday flew two radar-evading B-2 Spirit bombers on practice runs over South Korea.
The F-22 jets will take part in the annual US-ROK Foal Eagle military drills, which are designed to sharpen the allies' readiness to defend the South from an attack by the DPRK, the US military said.
The US military did not say how many of the planes were flown to the ROK from Kadena Air Base in Okinawa. The statement described Sunday's deployment as part of routine shifts of air power among bases in the Western Pacific that US forces have been conducting since 2004.