BRICS summit delivers tangible results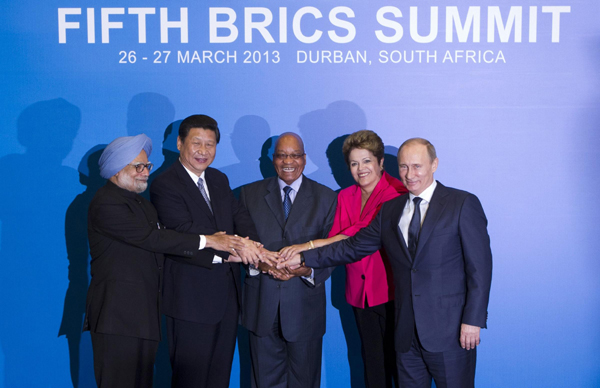 (L-R) Indian Prime Minister Manmohan Singh, Chinese President Xi Jinping, South African President Jacob Zuma, Brazilian President Dilma Rousseff and Russian President Vladimir Putin pose for a family photograph during the fifth BRICS Summit in Durban, March 27, 2013. [Photo/Agencies]
Durban - The leaders of five major emerging economies on Wednesday wrapped up their latest round of summit in the South African city of Durban to promote their partnership for development, integration and industrialization.
It is the first time for the BRICS nations, namely Brazil, Russia, India, China and South Africa, to hold their leaders' meeting on the continent of Africa.
CHINA PLEDGES TO ENHANCE BRICS COOPERATION
While addressing the summit in his keynote speech, Chinese President Xi Jinping called on all BRICS members to work hand in hand for common development.

He pledged that China would strengthen cooperation with other members to make economic growth of BRICS countries more robust and their cooperation better-structured and more productive.
BRICS cooperation not only brings benefits to the peoples of the five countries, but also contributes to promoting democracy in international relations, Xi said.
He said all members should manage their own affairs well by growing the economy and improving people's lives, strengthen coordination of macroeconomic policies, reform the international monetary and financial systems, and promote trade and investment liberalization and facilitation.
They should jointly participate in the setting of international development agenda and make global development more balanced, he said.
BRICS countries should work hard to boost cooperation in economy and trade, finance, infrastructure, movement of people and other fields, Xi said.
He also called for improving global economic governance and increasing the say and representation of BRICS countries, and urged the BRICS nations to move toward the goal of integrated markets, multi-tiered financial network, connectivity by land, air and sea, and greater cultural exchanges.
TANGIBLE RESULTS
At the summit, the five BRICS members have achieved a number of tangible results, and agreed to expand their future cooperation to more sectors, according to a statement issued after the meeting.
The most tangible outcomes, among others, is that the leaders have agreed to establish a development bank for mobilizing resources for infrastructure and sustainable development projects in the BRICS, as well as other emerging and the developing nations.
The BRICS leaders believed that the bank serves as a supplement to the existing efforts of multilateral and regional financial institutions for global growth and development, adding that the initial contribution to the bank should be sustainable and sufficient.
Meanwhile, the members also agreed to explore the construction of a financial safety net through the creation of a Contingent Reserve Arrangement (CRA).