West shouldn't define China-Africa relationship
Lying under white blossoms in a cemetery in southwestern Dar es Salaam are 69 tombs. They have been there for more than three decades and are a reminder of the strong friendship between Africa and China.
This is the Chinese Experts Cemetery. Within its walls lie the remains of 69 Chinese experts and specialists who lost their lives through accidents and disease during construction of the TAZARA railway in the 1960s and 1970s. President Xi Jinping and Tanzanian President Jakaya Kikwete on Monday came to pay tribute to those who paid the ultimate sacrifice and helped build such strong relations.
Earlier in the morning there was another reminder of just how close the countries are.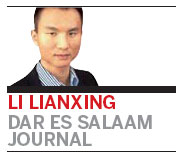 A golden key of a new conference center, constructed with the help of Chinese loans, was handed over to Kikwete. The key symbolized China's determination to respect African countries that choose their own development paths.
However, the development of the China-Africa relationship in the new millennium has in a sense - especially in terms of media coverage - never been determined by either China or Africa, but conducted and "supervised" by the West, some researchers said.
However, both peoples in recent years have grown to understand each other and are trying to find a way to reach a mutually beneficial relationship.
Before Xi's visit, members of the Chinese business chamber in Tanzania gathered to discuss the future of their investment. They were confident about developments.
"The last few years, we experienced hard times due to misunderstandings from both sides and media depictions from the West. But now we feel more confidence as our country has become stronger, and we have come to know how to understand each other and cooperate with each other," a Chinese member of the chamber said.
In the face of intensifying international competition, smoother communication is urgently needed to eradicate misunderstandings. China has to give more flexibility and space to African voices, as Africans demand, to ensure China's sustainable and long-term interests in this continent.
Disagreements may be there, but at least China's sincerity toward Africa and its people and willingness for mutual benefit are genuine, said Charles Sanga, chairman of the Tanzania Tourist Board.
It's true that this relationship in the past decade has been severely influenced by a third party, namely the West, rather than the major two players in this relationship. It must be clarified that the future relies on the will and efforts from both sides.
It's time to address the importance of Africa's new need for development in the coming years and the importance of the interaction and exchanges of China-Africa relations.
Of course Africa now has better leverage to request more from China to benefit its real development, but a more competitive market is also what China exactly wants to see in Africa as it will help China adjust its path of engagement with Africa while trying to satisfy Africa's real needs.
It must be seen as an opportunity for common growth through joint efforts.
Contact the writer at lilianxing@chinadaily.com.cn