Italy's president concludes meetings for forming govt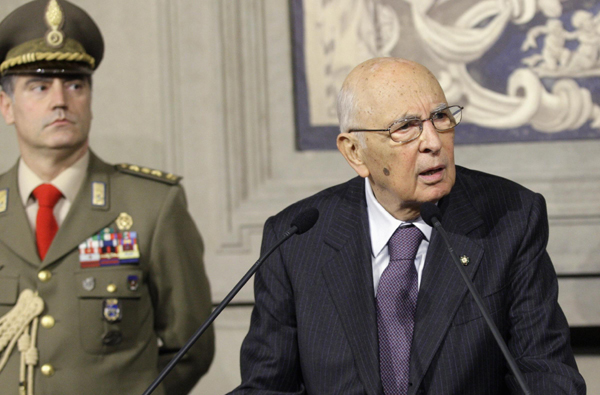 Italian President Giorgio Napolitano speaks to the media at Quirinale palace in Rome, March 21, 2013. Napolitano said he would announce on Friday his decision on the next steps towards forming a new Italian government. [Photo/Agencies]
ROME - Italy's President Giorgio Napolitano on Thursday concluded two days of meetings with leaders of the three biggest parties in the new parliament for forming a government.
Napolitano first met with comedian-turned-activist Beppe Grillo, whose anti-establishment Five-Star Movement (M5S) holds the balance of power after capturing a huge protest vote in last month's national elections.
The grassroots movement reaffirmed that it would "not agree to any confidence in political or pseudo-technocrat governments" and instead will vote for every bill that fits with its program.
Former premier Silvio Berlusconi, the head of the center-right which came second in the election after the center-left Democratic Party (PD), meanwhile, said he was "absolutely open to a coalition government that intervenes with economic measures that are broadly shared".
He said after talks with Napolitano that the M5S's unwillingness to compromise left the responsibility of forming a government to his center-right coalition and to the PD.
PD leader Pier Luigi Bersani, who has repeatedly ruled out an agreement with Berlusconi, was the last to meet with Napolitano later in the day.
Bersani, who failed to win a working majority in the Senate, stressed the need for crisis-hit Italy to have a "government of change" centered on social and institutional reforms in the framework of political moralization.
"Being the first party of this country, with a parliamentary responsibility significantly higher, we are at disposal of this necessity which is of both Italy and Europe," he said.
The PD on Wednesday presented the details of its eight-point program, which has some similarities with the M5S.
Napolitano, whose powers include naming the premier, said at the end of the meetings that he would appoint Italy's new prime minister on Friday.
"I need to rearrange my notes and ideas to come to a decision, that I will present and justify tomorrow," he told journalists.
According to observers, he could either charge Bersani with attempting to form a government, give an exploratory mandate to a high personality or opt for another caretaker executive.