Aung San Suu Kyi re-elected opposition leader
YANGON - Aung San Suu Kyi was re-elected as leader of Myanmar's main opposition party, the National League for Democracy (NLD), on Sunday, the second and final day of the party' s national congress held in Yangon, according to the party sources.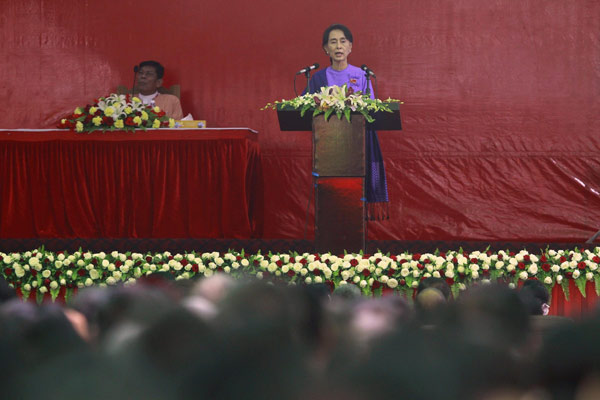 Myanmar's pro-democracy leader Aung San Suu Kyi delivers her speech at the National League for Democracy party's (NLD) congress in Yangon March 10, 2013. [Photo/Agencies]
Suu Kyi's re-election as chairperson of the NLD took place at the first meeting of the 120-member newly-elected Central Committee (CC) of the party.
The NLD's first ever national congress in 25 years was attended by 894 delegates from across the country and aimed at preparing for the 2015 general elections.
NLD, established in September 1988 after the takeover of former military junta, regained legal party registration on January 5, 2012 following Suu Kyi's release from house arrest on November 13, 2010, six days after the first multi-party general elections in 20 years.
NLD membership has expanded to 1.3 million as disclosed by the congress.
In the April 1, 2012 by-election, NLD overwhelmingly won 43 out of 45 contested parliamentary seats, with Suu Kyi elected as member of the House of Representatives (Lower House).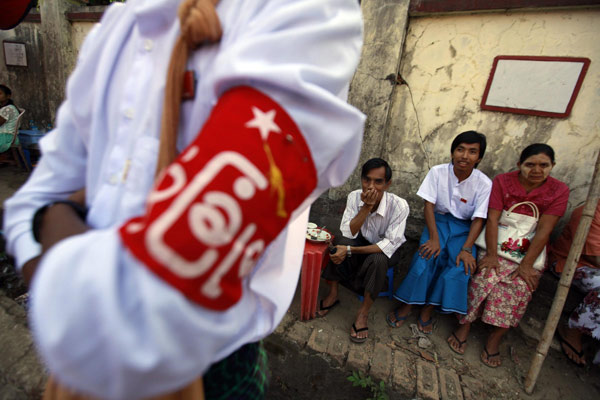 Members of the National League for Democracy (NLD) party sit at a tea shop on a street in front of the building where the NLD are holding their congress, in Yangon March 10, 2013. [Photo/Agencies]