Chavez funeral gathers leaders from across globe
Acting president to call for elections, and vows to embalm former leader
World leaders were to join hundreds of thousands of mourners at a state funeral for Venezuela's Hugo Chavez on Friday, as his political heir vowed to embalm the leftist leader "like Lenin".
His funeral was set to begin at 11 am local time, and was to be followed by the swearing-in of his successor Nicolas Maduro, who plans to call for elections.
Fifty-five world leaders were expected at the funeral, including Cuba's Raul Castro, Iran's Mahmoud Ahmadinejad and Alexander Lukashenko of Belarus.
Castro had earlier said his friend had died "undefeated, invincible, victorious" after "entering through the great door of history".
Ahmadinejad expressed his condolences as he arrived in Venezuela early on Friday, calling Chavez "a symbol for all those who seek justice, love and peace in the world".
Chavez will be kept in a glass casket to be seen "for eternity", Maduro said on Thursday.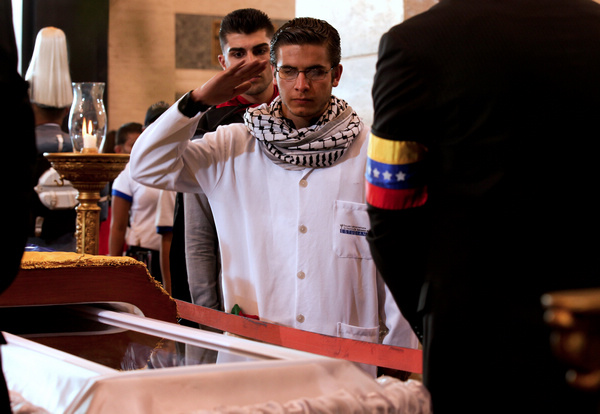 Venezuelans paying homage to late President Hugo Chavez in Caracas on Thursday. Chavez will be moved to a barracks where he will lie in state and then be embalmed, interim leader Nicolas Maduro said on Thursday. [Venezuelan Presidency via Agence France-Presse]
Maduro said the body will be taken to the "Mountain Barracks" in the Jan 23 slum that was a bastion of Chavez support, a facility that is now being converted into a Museum of the Revolution.
It was there that Chavez had spearheaded what proved to be a failed coup against president Carlos Andres Perez on Feb 4, 1992. His arrest turned him into a hero, leading to his first of many election victories in 1998.
But Maduro suggested that Chavez may one day be moved elsewhere, a nod to popular pressure for him to be taken to the national pantheon to lie alongside Latin American independence hero Simon Bolivar.
National Assembly President Diosdado Cabello said Maduro would be formally sworn-in as acting president at 7 pm local time after the funeral, and that he would "call for elections".
The national electoral council is tasked with setting a date for elections, which must be called within 30 days under the constitution.