Syria rebels hold UN peacekeepers
An image grab taken from a video uploaded on YouTube on Wednesday, allegedly shows armed fighters standing in front of a United Nations Disengagement Force vehicle in the Golan Heights between Syria and Israel. Youtube via Agence France-Presse
World condemns spillover of civil war onto armistice line with Israel
Syria
n rebels kept 21 UN peacekeepers hostage on the Golan Heights on Thursday despite world condemnation of the spillover of Syria's conflict onto the sensitive armistice line with Israel.
Diplomats scrambled to secure the release of the 21 Filipinos serving with the four-decade-old UN peace mission on the strategic plateau, as concern mounted that their seizure might prompt more governments to withdraw their contingents.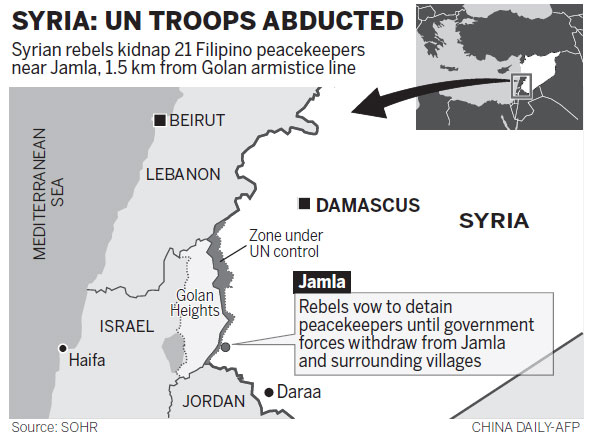 Israel, which has repeatedly warned that it will not tolerate any spillover onto the Golan, said it feared the hostage-taking might lead to the already depleted force being wound up altogether.
For months, Israel has retaliated against stray fire onto its side of the armistice line, whether from Damascus troops or the rebels, who are also hostile to its occupation of the Syrian territory.
The Philippine soldiers were detained at a rebel post on the Syrian side on Wednesday by gunmen who said the troops would be held until government forces pulled back from Jamla village in the southern province of Daraa.
The village is some 1.5 kilometers east of the armistice line.
Talks under way
The Philippine government said on Thursday that talks were under way for the release of the 21 unarmed Filipino UN peacekeepers.
Foreign Affairs Department spokesman Raul Hernandez said the peacekeepers were unharmed and were being treated as "visitors and guests".
Hernandez told reporters in Manila that the UN force commander in the area was negotiating with the leader of the rebel group, whose demands concerned the positioning of Syrian government forces in the area. He said there was no deadline for the negotiations.
Philippine President Benigno Aquino III said earlier on Thursday that the UN force commander told him to expect the peacekeepers to be released within 24 hours, with negotiations progressing well. The UN Security Council demanded their immediate and unconditional release.
The capture came a week after the announcement that a member of the peacekeeping force is missing. The force, known as UNDOF, was established a year after the 1973 Middle East war. It monitors the disengagement of Israeli and Syrian forces and maintains a cease-fire.