Obama campaigns against gun violence
WASHINGTON - US President Barack Obama on Friday went all out against gun violence, using two public appearances to stress the issue, hammering home his message of tougher gun control.
Obama tackled the issue directly with a campaign-style speech at Hyde Park Academy High School in his hometown Chicago. He highlighted gun violence that plagued the city, saying "Americans are asking for common sense proposals to make it harder for Americans to get their hands on a gun."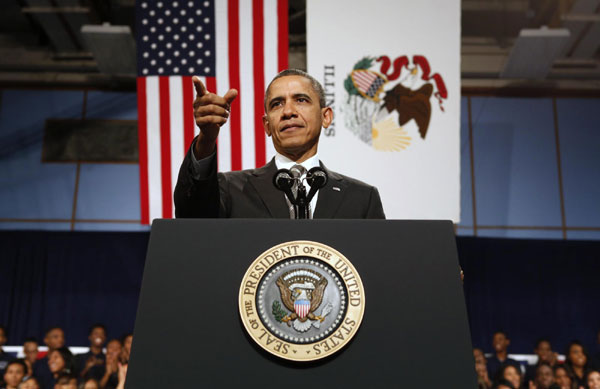 US President Barack Obama speaks about strengthening the economy for the middle class and measures to combat gun violence during a visit to Hyde Park Academy in Chicago, Illinois Feb 15, 2013. [Photo/Agencies]
Pointing out that the government's gun control measures won't stop every crime, Obama said the community has to be involved.
"A child opens fire on another child, there is a hole in that child's heart that government can't fill, only community, parents, teachers and clergy can fill that," Obama said.
Before the speech, Obama participated in a roundtable discussion with 16 students enrolled in a youth anti-violence program, a school-based counseling, mentoring, violence prevention and educational program for at-risk young men, according to the White House.
The visit follows the weekend funeral of Chicago teenager Hadiya Pendleton, who was killed days after performing during Obama's inauguration in Washington. She was shot last month about a mile from Obama's Chicago home. Police said she was the innocent victim of a gang-related shooting. Michelle Obama attended her funeral in Chicago.
Obama headed to his hometown after a White House ceremony to award the Presidential Citizens Medals. Recipients included six educators killed in last year's Sandy Hook Elementary School massacre.
At the emotional ceremony, Obama hugged family members of the slain teachers in presenting the medals, saying "they had no idea that evil was about to strike. And when it did, they could have taken shelter by themselves. They could have focused on their own safety, on their own well-being. But they didn't. They gave their lives to protect the precious children in their care."
Obama has made gun control a priority in his second term agenda. He made a dramatic call in his State of the Union address on Tuesday for Congress to vote on his package of gun measures, amid fierce opposition from the National Rifle Association.
Related stories:
Obama urges Congress to move on gun control issue
US House Democrats unveil gun-control proposals
US 1st Lady to attend gun violence victim funeral
Gun lobby takes aim at Obama shooting photo