Funeral of Sihanouk ends, remains placed in palace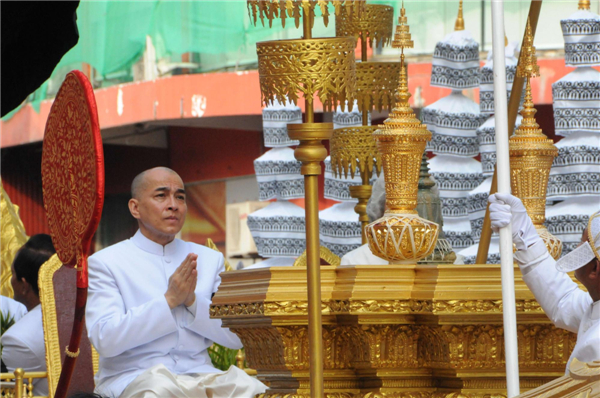 Cambodian King Norodom Sihamoni escorts the ashes of late King Father Norodom Sihanouk during a procession in Phnom Penh, Cambodia, Feb 7, 2013. [Photo/Xinhua]
PHNOM PENH - A week-long royal funeral of Cambodia's late King Norodom Sihanouk came to an end on Thursday when his cremains were taken from the cremation site to keep in the royal palace in a procession.
Sihanouk's remains were stored in three urns. Chea Kean, vice-president of the National and International Ceremony Organizing Committee, said that two urns were made of gold and one was made of marble.
"All the three urns contained the ashes of the King Father Norodom Sihanouk," he told Xinhua.
After 90 Buddhist monks, one represents each year of Sihanouk's life, chanted in a religious language, Sihanouk's sons King Norodom Sihamoni and Prince Norodom Ranariddh took the royal urns containing their father's remains from the cremation site to place on a golden mythological bird-shaped float and headed to the royal palace in a parade.
The procession was attended by President of the National Assembly Heng Samrin, Prime Minister Hun Sen, and Say Chhum, the first vice-president of the Senate, as well as royal families and senior officials.
The late monarch died at the age of 90 in Beijing, China, on Oct 15 last year due to natural causes. His embalmed body had been lying in state at the royal palace for more than three months before it was cremated on Monday in an elaborate Buddhist ceremony, which were also attended by foreign leaders and dignitaries from 16 countries.
They included French Prime Minister Jean-Marc Ayrault, Prince Akishino of Japan and China's top political advisor Jia Qinglin.
On Tuesday, some of Sihanouk's ashes were scattered at the confluence of the four rivers in front of the royal palace.
Sihanouk reigned over Cambodia from 1941 to 1955 and again from 1993 until his voluntary abdication on Oct 7, 2004 in favor of his son, the current King Norodom Sihamoni.
He was a presence through decades of political and social turmoil in Cambodia, despite long periods of exile overseas.
Prince Norodom Ranariddh, the eldest son of Sihanouk and former prime minister of Cambodia, told Xinhua last Saturday that the death of the King Father was not only the great loss for the royal families, but also the loss for all Cambodian people because he was the father of independence, territorial integrity, and national unification.
It was also a loss for Southeast Asian nations and the world because the King Father was the founder of the Movement of Non-Aligned Countries, he added.