Iraqi forces clear areas freed from IS in eastern Mosul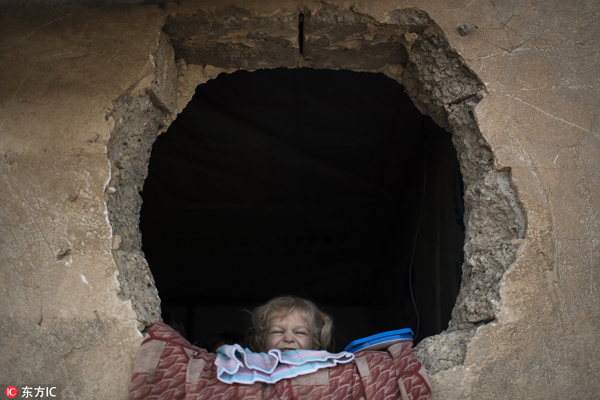 An Iraqi girl, who was displaced by fighting in Mosul, looks out of her window at a camp for internally displaced people, in Hassan Sham, east of Mosul, Iraq, Wednesday, Nov 9, 2016. The United Nations says over 34,000 people have been displaced from Mosul, with about three quarters settled in camps and the rest in host communities. [Photo/IC]
MOSUL, Iraq - Iraqi security forces on Wednesday completely cleared the districts freed earlier in the week from the Islamic State (IS) militants in eastern Mosul, a security source said.
The commandos of the Counter-Terrorism Service (CTS) have ended operations to clear the districts of al-Zahraa, al-Samah, Kirkukli, al-Intisar, Malayin and Khdraa in eastern Mosul after several days of fierce clashes with IS militants, killing dozens of them and destroying many of the vehicles, the source from the CTS told Xinhua on condition of anonymity.
The IS militants were using a complex network of tunnels dug earlier under the city, the source said, adding that the extremist militants also used the civilians as human shields as they prevent them from moving from the battleground.
In the coming days, the troops will push further into the eastern districts of the city, including al-Tahrir and al-Salam, the source said.
Earlier in the month, hundreds of the CTS commandos and Iraqi army made a significant progress at the eastern side of Mosul, and managed to seize six districts.
The advance unleashed the most intense street battles against IS militants since the offensive to retake the city began more than three weeks ago.
The battles inside Mosul pushed the number of civilians who were displaced from their homes to around 34,860 since the start of the military offensive earlier this month, according to the recent report of the United Nations High Commissioner for Refugees (UNHCR).
On Oct 17, Iraqi Prime Minister Haider al-Abadi announced the start of a major offensive to retake Mosul, the country's second largest city.
Since then, the Iraqi security forces have inched to the eastern fringes of Mosul and made progress on other routes around the city, preparing for a major battle to storm the city and drive out IS militants.
Mosul, some 400 km north of the Iraqi capital of Baghdad, has been under IS control since June 2014, when Iraqi government forces abandoned their weapons and fled, enabling IS militants to take control of parts of Iraq's northern and western regions.