Leaders pay last respects to Sihanouk
By Zhao Shengnan and Zhou Wa in Beijing, Qin Jize in Phnom Penh | China Daily | Updated: 2013-02-05 02:13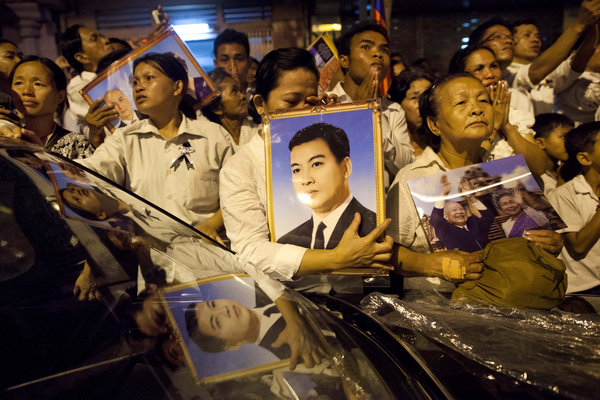 Cambodia is overwhelmed by grief as Norodom Sihanouk, the late king, is cremated in Phnom Penh on Monday. [PHOTO BY DAVID GUTTENFELDER / ASSOCIATED PRESS]
China's top legislator Jia Qinglin joined other foreign leaders and tens of thousands of Cambodians in Phnom Penh on Monday to pay their last respects during the cremation of late King Norodom Sihanouk.
Jia leader of China's top political advisory body, attended the cremation ceremony, conveying the grief of the Chinese people and leaders, and pledging closer ties with Cambodian leaders during the post-Sihanouk era.
During a meeting with Jia on Monday, Queen Mother Norodom Monineath Sihanouk and King Norodom Sihamoni expressed their heartfelt thanks to the Chinese side. They said King-Father Sihanouk loved China very much and received thoughtful care from the Chinese government.
They said they would never forget the profound friendship and the Cambodian Royal family will firmly support Cambodia-China relations as well as the development of various undertakings in China. Jia also met with Cambodian Prime Minister Hun Sen on the same morning.
Officials and observers said Jia's presence, along with Beijing's series of high-profile moves mourning Sihanouk over the past months, demonstrates both sides' commitment to their strategic partnership as well as to a good diplomatic model between big and small countries.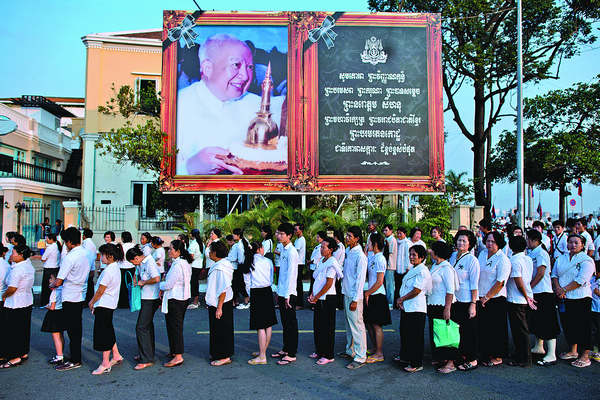 Thousands of Cambodians line up to enter the crematorium where the coffi n of King Norodom Sihanouk rests in Phnom Penh on Monday. [PHOTOS BY NICOLAS ASFOURI / AGENCE FRANCE-PRESSE]
Sihanouk's body had been lying in state since he died of a heart attack in Beijing on Oct 15 at the age of 90. The weeklong funeral, which started on Friday, will see some of his ashes returned to the Royal Palace and some scattered near the confluence of the four rivers in Phnom Penh on Thursday.
The death of Sihanouk will not affect the existing good relationship between Cambodia and China, instead it will be further strengthened and expanded, said Kao Samreth, charge d'affaires of the Cambodian embassy to China. "The government and people of China have always assisted and supported His Majesty since he was alive till the end of his life. This friendly gratitude is always remembered by leaders and people of Cambodia."
Having twice lived in exile in China, Sihanouk often referred to the country as his "second homeland". He returned to the throne twice with the strongest political support from China in times of adversity and had almost all his medical treatment in the last years of his life after being diagnosed with prostate cancer in 1994.
"Both countries are linked together. I do not believe that anything could break that relationship, and we will further improve cooperation and friendly relations with the People's Republic of China," Prince Sisowath Thomico, the spokesman for the Royal Cabinet and former aide to Sihanouk, told Xinhua News Agency.