Greece hit by new strikes against austerity
ATHENS - Greece was gripped by a fresh 24-hour strike in the public sector on Thursday, as workers in many unions demonstrated against the harsh austerity measures introduced to address the debt crisis.
Thousands of civil servants, from doctors, hospital staff and teachers to bus drivers, took to the streets of central Athens, chanting slogans against the painful wage cuts and tax increases promoted by the government under bailout agreements with international lenders since 2010.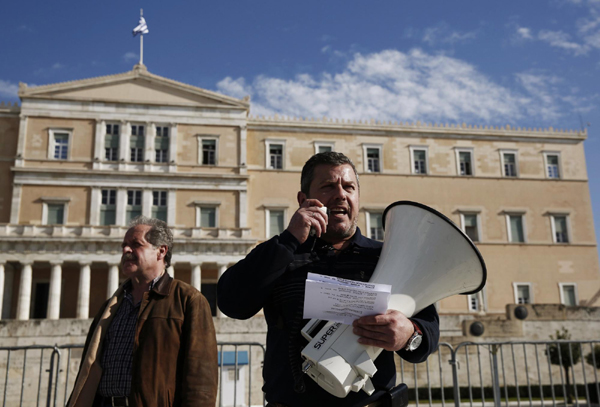 A unionist shouts slogans in front of the parliament during an anti-austerity rally in Athens, Jan 31, 2013. [Photo/Agencies]
In the last month, a series of strikes from separate unions has brought Athens to a halt. Delays and traffic jams across the city increased the tension and discomfort of the capital's residents.
Employees at buses, trains and the suburban railway walked off their jobs again on Thursday to protest wage cuts. In addition, seamen participated in the mobilization and launched a 48-hour strike.
National hospitals operated on skeleton staff, as their union protested shortages and poor working conditions.
Moreover, the union representing employees of the Public Power Corporation (PPC), GENOP-DEI, joined a 24-hour strike in solidarity with health care and transport workers.
On Wednesday, thousands of Greek farmers deployed their tractors alongside the Athens-Thessaloniki national highway and other key junctions of national roads across Greece, threatening to cut the country into two with roadblocks, unless their demands for less taxation and measures to ease the pressure of austerity are met.
Unionists warn of more strikes and protests in coming weeks, while the government has adopted a hard line against strikers, expressing determination to implement the necessary reforms to overcome the crisis.