ISLAMABAD, Pakistan - Gen. Pervez Musharraf won an overwhemingly majority in a presidential election boycotted by nearly the entire opposition Saturday, and attention shifted to Supreme Court deliberations on whether he can claim victory.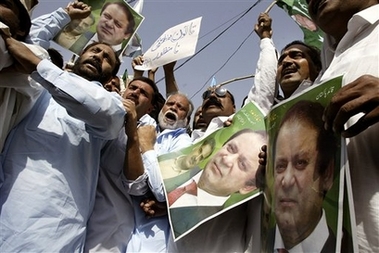 Supporters of Pakistan's former prime minister Nawaz Sharif hold a rally to condemn Pakistan's military ruler Gen. Pervez Musharraf who is contesting election on Saturday, Oct 6, 2007 in Rawalpindi, Pakistan. Unofficial results showed Pakistan's Gen. Pervez Musharraf sweeping Saturday's presidential election, but the Supreme Court could still disqualify the military leader. [Agencies]
Opposition parties that snubbed the vote claimed it was undemocratic and unconstitutional for the US-backed general, who seized power in 1999, to run while still army chief.
The Supreme Court is weighing that argument before permitting the release of official results, though analysts question whether it would dare deny him victory and potentially throw the country into chaos.
In total, Musharraf won 671 votes, while the retired judge who was his main rival received just eight. Six ballots were invalid, election officials said. In all, 1,170 federal and provincial lawmakers were eligible to vote.
Musharraf dismissed criticism that the boycott had undermined the legitimacy of the election.
"Democracy means majority, whether there is opposition or no opposition," Musharraf, dressed casually in a gray jacket, told reporters on the lawn of his official residence. "A majority — a vast majority — have voted for me and therefore that result is the result."
Speculation persists that if Musharraf is blocked, he might declare martial law, and the army chief appeared annoyed when asked if he would step down as president if the Supreme Court ruled against him.
"Let the decision come and then we will decide," he said.
Musharraf's key international backer, the United States, gave an upbeat response on the conduct of the election, although the State Department stressed that the results were unofficial until the court verdict.
"Pakistan is an important partner and ally to the United States and we congratulate them for today's election. We look forward to the electoral commission's announcement and to working with all of Pakistan's leaders on important bilateral, regional and counterterrorism issues," Gordon Johndroe, a spokesman for the White House's National Security Council, said in Washington.
The ruling party celebrated Saturday's vote with fireworks and said it looked forward to parliamentary elections due by January, but their enthusiasm was not shared by a public cynical of Pakistan's elitist politics and the military's long domination of the country.
"We have a saying that 'He who owns the stick, owns the buffalo,'" said Ijaz Shah, a grocer relaxing on the lawns in front of the federal Parliament. "If the government really had support, there would have been thousands of people here to cheer it."
Musharraf's popularity has plummeted since a failed bid to oust the country's top judge in March and is struggling to contain a surge in Islamic militancy. He has promised to give up his powerful army post if he wins the election and restore civilian rule.