BAGHDAD - Iran on Monday re-opened five border crossing points with Kurdish-run northern Iraq, closed last month by Tehran to protest the US detention of an Iranian official as the Americans step up allegations that the Iranians are fueling the violence in Iraq.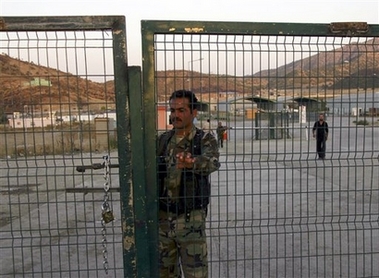 A border guard closes a gate at the Bashmakh border crossing between Iraq and Iran near Panjwin, 280 kilometers northeast of Baghdad, Iraq on Monday, Sept. 24, 2007. [Agencies]
The US military alleged that the detained Iranian official was a member of the paramilitary Quds Force, a branch of the Iranian Revolutionary Guards that is accused of provide arms and training to Shiite extremists.
Ratcheting up the rhetoric, top US commander Gen. David Petraeus claimed this weekend that the Iranian ambassador to Baghdad, Hassan Kazemi Qomi, was a member of the Quds Force.
"The Quds Force controls the policy for Iraq; there should be no confusion about that either," Petraeus told CNN and other reporters during a trip to a military base on the Iranian border. "The ambassador is a Quds Force member. Now he has diplomatic immunity and therefore he is obviously not subject and he is acting as a diplomat."
Petraeus did not provide details on how he knew Qomi, who has held talks in Baghdad with US Ambassador Ryan C. Crocker, belonged to the Quds Force, and the Iranian Foreign Ministry rejected the allegations.
"These are not new comments. Similar accusations were raised, formerly. It is baseless and not right," ministry spokesman Mohammad Ali Hosseini told reporters in Tehran.
The Iraqis have found themselves caught between two allies as they struggle to balance the interests of their main sponsor the US military and Iran, a major regional ally. Iran holds considerable sway in Iraq as both countries have majority Shiite populations and many members of Iraqi Prime Minister Nouri al-Maliki's ruling Shiite bloc have close ties with Tehran.
The border points, which had been shut down on September 24, were reopened after a Kurdish delegation traveled to Iran to complain the region should not be punished for something the Americans did. Iraqi and Iranian authorities have claimed that the detained Iranian, Mahmoud Farhadi, was in Iraq on official business and demanded his release.