BAGRAM, Afghanistan - Six years after the first US bombs began falling on Afghanistan's Taliban government and its al-Qaida guests, America is planning for a long stay.
Originally envisioned as a temporary home for invading US forces, the sprawling American base at Bagram, a former Soviet outpost in the shadow of the towering Hindu Kush mountains, is growing in size by nearly a third.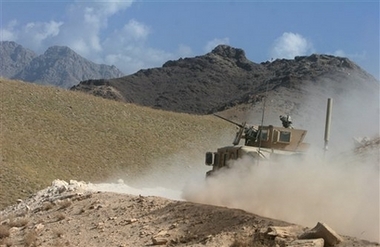 A US humvee vehicle drives up in the Tagab district of Kapisa province, north of Kabul, Afghanistan on Sept. 2007. Six years after the first US bombs began falling on Afghanistan's Taliban government and its al-Qaida guests, America is planning for a long stay. [Agencies]
Today the US has about 25,000 troops in the country, and other NATO nations contribute another 25,000, more than three times the number of international troops in the country four years ago, when the Taliban appeared defeated.
The Islamic militia has come roaring back since then, and 2007 has been the battle's bloodiest year yet.
Barnett R. Rubin, an expert on Afghanistan at New York University, said US leaders in Washington "utterly failed" to understand what was needed to consolidate that original Taliban rout, which started with airstrikes on October 7, 2001, less than a month after the September 11 attacks in Washington and New York.
"The Bush administration did not see Afghanistan as a long-term commitment, and its leaders deceived themselves into thinking they had won an irreversible victory. They did not consider Afghanistan important and always intended to focus on Iraq," he said.
"Now the US and international community have fallen way behind, and the Taliban are winning strategically, even if we defeat them in every tactical engagement," he added.
At Bagram, new barracks will help accommodate the record number of US troops in the country.
"We've grown in our commitment to Afghanistan by putting another brigade (of troops) here, and with that we know that we're going to have an enduring presence," said Col. Jonathan Ives. "So this is going to become a long-term base for us, whether that means five years, 10 years — we don't know."a
Insurgents have launched more than 100 suicide attacks this year, an unprecedented pace, including a bombing in Kabul on Saturday against a US convoy that killed an American soldier and four Afghan civilians — the third suicide blast in Kabul in a week.
More than 5,100 people — mostly militants — have died in insurgency related violence so far this year, according to an Associated Press count based on figures from Afghan and Western officials. That far outpaces last year's violence, when the AP count topped 4,000 for the entire year.
Some 87 US troops have also died so far this year, also a record pace. About 90 US servicemembers were killed in all of last year.
Wide areas of the south — in Helmand, Kandahar and Uruzgan provinces — are controlled by the Taliban, and the fighting is migrating north, into Ghazni Province — where 23 South Koreans were kidnapped in July — and Wardak, right next door to Kabul, the capital.
Osama bin Laden, whose presence here was a trigger for the US-led attack, is still at large, possibly hiding in the mountains along the Afghanistan-Pakistan border.
And Afghan farmers this year grew a record amount of opium poppy, prompting officials to draw up plans to use the military in drug interdiction missions against traffickers.
Rubin said Washington ignored how difficult the fight would be and wanted to prevent US forces from being tied down in nation-building exercises as in the Balkans.
"Since 2005, US generals have told me (former Defense Secretary Donald Rumsfeld) was drumming his fingers on the table trying to find out when he could take the troops out," Rubin said. "Now the administration has completely reversed itself, but of course without ever admitting it was wrong and still without a strategy that has a serious chance of success."