One morning this summer, residents of Wuxi City, in China's eastern Jiangsu Province, awoke to find their beloved Taihu Lake had turned rancid. The water was filled with a bloom of blue-green algae that gave off a rotten smell. The water was tested to be undrinkable.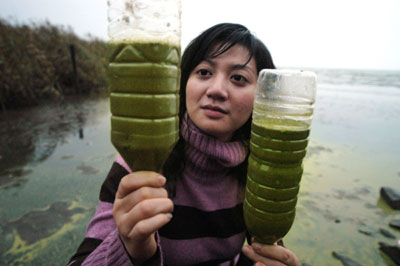 A woman holds two bottles of blue-green algae polluted water sampled from Taihu Basin's Huzhou section on Nov 22, 2006.  Polluting discharges poisoned Jiangsu Province's vast network of lakes, rivers and canals. [newsphoto]
For almost three decades, the city had welcomed some of the world's biggest polluters to settle there. Churning out paper, photographic film, dye, fertilizer, cement and other products for the global marketplace, the businesses helped make Wuxi into one of the country's wealthiest industrial cities.
However, these firms also poisoned the province's vast network of lakes, rivers and canals. In late May, when the toxic sludge reached Taihu Lake, which is the main source of potable water for Wuxi's 5.8 million residents, people turned on their taps and got only sludge.
City officials decided they'd had enough. In a series of radical proclamations that sent shudders though the business community, Wuxi declared itself a newly reformed "green city", the Washington Post reported on its Saturday edition.
By the end of September, the city had closed or given directives to close more than 1,340 polluting factories. Wuxi ordered the rest to clean up by coming June or be permanently shut down.
The actions were applauded by Premier Wen Jiabao, who has vowed to use economic incentives and punishments to aid in environmental protection and resource protection. Last week, the State Council, which Premier Wen heads, approved an environmental plan that includes reducing major pollutant discharges by 10 percent by 2010, a formidable challenge facing the government but not a target unattainable, analysts said.
Plagued by worsening water shortage, choking on dusty air and alarmed by a sharp rise in pollution-related diseases and deaths, China has been searching for years for a way to fix its environment without hurting its economy.
The Washington Post report quoted Elizabeth Economy, a fellow at the Council on Foreign Relations and author of "The River Runs Black: The Environmental Challenges to China's Future," as saying that, this time "the commitment, the profile, the energy behind Beijing's environmental protection efforts far exceeds anything we've seen in China's history.