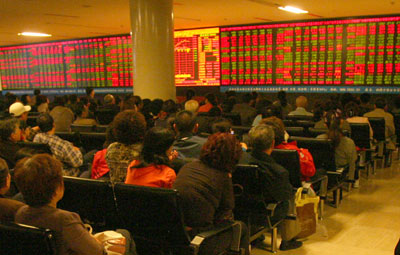 Chinese investors monitor stock price movements at a brokerage in Changchun, Northeast China's Jilin Province October 8, 2007. [newsphoto]
China's main stock index started the fourth quarter with a new record high on Monday, as investors snapped up financial shares after the week-long National Day holiday.
The benchmark Shanghai Composite Index opened 131.01 points higher at 5,683.31 points before breaking though the 5,700 mark to hit as high as 5,729.96. It eased a bit to close at 5,692.76, an increase of 112.79 percent since the end of last year.
The Shenzhen Composite Index rose 0.57 percent to end the session at 1,541.35 points, while the CSI 300 Index added 1.30 points to 5,653.13.
The Chinese market was closed during the National Day holiday.
The rally came in spite of the pressure on liquidity, brought about by a series of big IPOs, rising interest rates and accelerating money outflows into overseas markets.
"Such bullishness as we saw today won't last long," said Chen Ge, fund manager at Fullgoal Fund Management Co, according to the Reuters. "We expect to see big fluctuations toward the end of the month."
Financial and property shares were the main driver. The Industrial and Commercial Bank of China was the single largest contributor, pushing up the Shanghai index 48.17 points with a 9.98 percent jump to close at 7.27 yuan per share.
China Life followed with a 8.65 percent rise to 67.81 yuan, while Bank of China gained 6.24 percent to 6.30 yuan.
China Minsheng Banking Corp. increased 3.10 percent to 16.30 yuan after it announced plans to pay US$317 million for a 9.9 percent stake in UCBH Holdings Inc., the Nasdaq-listed parent company of US-based United Commercial Bank. The transaction, subject to regulatory approval from both countries, marks the Chinese mainland's first strategic investment in an American bank.
In the real estate sector, China Vanke and China Merchants Property Development soared to their daily limits of 10 percent, followed by a 9.03 percent jump in shares of COFCO Property Group.
The gains recovered property shares' losses at the end of last month in response to mortgage lending curbs designed to cool the real estate market.
"Leading developers such as Vanke will actually benefit from the curbs" as small rivals with less access to the capital markets get squeezed out, said Chen at Fullgoal Fund.
Monday's surge was leveled off as more than half of the stocks declined, with airline shares leading the drop.
Air China plunged 6.74 percent to 22.0 yuan, while China Southern Airlines tumbled 6.81 percent to 22.31 yuan
There were no change in the fundamentals in the airline industry, but investors continued the selling spree sparked by an announcement of Air China and Cathay Pacific to cancel their bids to buy China Eastern Airlines.