CLEVELAND - A 14-year-old suspended student opened fire in a downtown high school Wednesday before killing himself, and five people were taken to hospitals, authorities said. After the shooting, shaken teens called their parents on cell phones, most to reassure but in at least one case with terrifying news: "Mom, I got shot."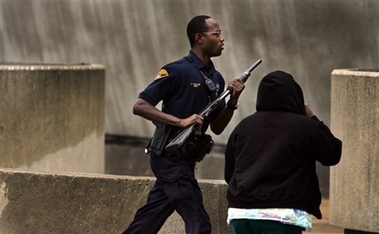 A Cleveland police officer runs into SuccessTech Academy in Cleveland, Ohio, Wednesday, Oct. 10, 2007. after shooting inside. [Agencies]
Mayor Frank Jackson said the three teens and two adults were hurt. He said the children were in "stable, good condition," and the adults were in "a little elevated condition."
The shooter was enrolled at the SuccessTech Academy alternative school but had been suspended Monday for fighting, said Charles Blackwell, president of SuccessTech's student-parent organization.
Blackwell said the shooter entered the high school, a converted five-story office building, and gradually worked his way up through the first two floors of administrative offices to the third floor of classrooms.
"Nobody knows how he got in," he said.
Student Doneisha LeVert, who hid in a closet with two other students after she heard a "Code Blue" alert over the loudspeaker, said the shooter had threatened students Friday.
"He's crazy. He threatened to blow up our school. He threatened to stab everybody," she said.
Ronnell Jackson, 15, said he saw a shooter running down a school hallway.
"He was about to shoot me, but I got out just in time," he said. "He was aiming at me I got out just in time."
LeVert said she heard about 10 shots.
"I heard gunshots but I just thought someone was banging a book on the desk," said Rasheem Smith, 15. He soon realized there was a shooting and told his classmates to flee down the stairs.
Tammy Mundy, 38, who has a son and daughter at the school, told The Plain Dealer that her daughter called when the shooting started.
"She said, 'Mom they're shooting in here, kids are running out, I'm hiding in the closet,'" Mundy told the newspaper.
Then she called her 18-year-old son, Darnell Rodgers, on his cell phone, and he told her he had been shot in the arm.
"He said, 'Mom, I got shot,'" Mundy told the newspaper.
Rodgers' girlfriend, 17-year-old Lateisha Riddlehill, who hid in a bathroom during the shootings, confirmed that Rodgers had been shot in the elbow. She said he told her he was going to be fine.
The mayor said the other two teens injured were a boy and a girl, both 14, and that the girl had fallen and hurt her knee while running out of the school.
A hospital spokeswoman said Rodgers was listed in stable condition. David Kachadourian, 57, was in good condition, and a 42-year-old man was in surgery and his condition unavailable. The other two injured teens were taken to a children's hospital, which would not release their names, ages or conditions.
Students stood outside the building, many in tears, hugging each other and on cell phones. Others shouted at reporters with TV cameras to leave them alone. Family members also stood outside, anxiously waiting for their children to be released.
"I'm scared. I'm hoping no more people got hurt," Ronnell Jackson said.
The shooting occurred across the street from the FBI office in downtown Cleveland, and students were being sent to the FBI site.
"There are a lot of emergency vehicles," said spokesman Scott Wilson. "They're just trying to sort things out right now."
Wilson said he had no information on the shooting.
SuccessTech Academy is an alternative high school in the Cleveland city school district that emphasizes technology and entrepreneurship. It is housed on several floors of the district's downtown Cleveland Lakeside Avenue administration building.
"It's a shining beacon for the Cleveland Metropolitan School System," said John Zitzner, founder and president of E City Cleveland, a nonprofit group aimed at teaching business skills to inner-city teens. "It's orderly, it's disciplined, it's calm, it's focused."
The school, opened five years ago, ranks in the middle of the state's ratings for student performance. Its graduation rate is 94 percent, well above the district's rate of 55 percent.