JERUSALEM - A confidant of Israeli Prime Minister Ehud Olmert said Monday that his government would support a division of Jerusalem, which is reportedly a key component of an Israeli-Palestinian declaration to be made at a US-sponsored Mideast peace conference next month.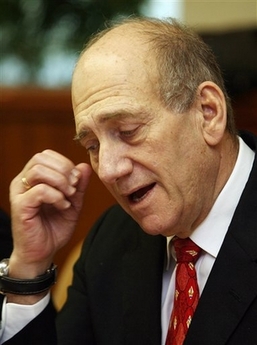 Israeli Prime Minister Ehud Olmert speaks during the weekly cabinet meeting in Jerusalem, Sunday, Oct. 7, 2007. [Agencies]
As part of recent negotiations between the sides, Deputy Vice Prime Minister Haim Ramon has proposed turning over many of the Arab neighborhoods of east Jerusalem to the Palestinians. Ramon said the Palestinians could establish the capital of a future state in the sector of the city, which Israel captured from Jordan in the 1967 Mideast war.
In return, Israel would receive the recognition of the international community, including Arab states, of its sovereignty over Jewish neighborhoods and the existence of its capital there, Ramon said.
On Monday Ramon said even hawkish elements of Olmert's coalition, like Cabinet Minister Avigdor Lieberman's Yisrael Beiteinu Party, would back such an Israeli concession. The centrist Labor Party would also support the proposal, Ramon said.
"There are two central parties that agree to this," Ramon told Army Radio. "The most important thing is to preserve the state of Israel Jewish and democratic."
Under his proposal, neighborhoods in east Jerusalem where about 170,000 Palestinians live would be transferred to Palestinian sovereignty, Ramon said.
But Israel would not transfer control of the Holy City and neighborhoods around it to the Palestinians, he said. He did not elaborate but media reports have said that he has proposed Israel relinquish some sovereignty in the area that contains the most contentious sites in the 60-year-conflict.