London -- Britain will halve its force in Iraq to 2,500 troops from spring next year, Prime Minister Gordon Brown said on Monday against a backdrop of noisy anti-war protesters outside parliament waving "troops out" banners.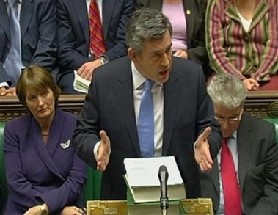 Television footage shows British Prime Minister Gordon Brown speaking in the House of Commons in London October 8, 2007. [Agencies]
In his first major foreign policy speech to parliament, Brown also announced plans to allow Iraqis who have worked for British troops to apply for funds to resettle in Britain, Iraq or other countries in the region.
Brown said during a visit to Iraq last week that 500 more soldiers would be home from the war by year's end and said Britain would hand responsibility for the southern province of Basra to Iraqi security forces within two months.
The British force had already been due to fall from 5,500 to 5,000, and will now fall to 2,500 from spring next year.
Brown, who took over from Tony Blair as prime minister in June, had been widely expected to speed up the withdrawal of British troops after voter dismay at the war sent Blair's popularity plummeting and hastened his departure from office.
The announcement marks a turning point in southern Iraq, where there will no longer be a major presence of international forces patrolling the streets.
In recent months, unnamed sources within the US administration have criticized Britain for seeking to reduce its role in Iraq, suggesting that the country is "cutting and running." But the White House was measured on Monday.
"This is consistent with previously announced plans by the British to reduce their troop presence in southern Iraq as the Iraqi security forces are able to take lead responsibility in the southern provinces," Gordon Johndroe, spokesman for the White House National Security Council, said.
Brown told parliament Britain's increasing "overwatch" role would still mean British troops had "a capacity to operate supply lines and look at the border issues."
"That means we are in a position to support Iraqi troops but also to re-intervene," he said.
A senior government official later told reporters he did not rule out the possibility that all British troops could be withdrawn by the end of next year.
"There is no guarantee they will be there beyond the end of 2008," the official said.
Criticism
Britain sent 45,000 troops to Iraq during the US-led invasion in 2003 as Washington's main ally and maintained around 7,000 to 8,000 troops for most of the past four years in the mainly Shi'ite area that produces most of Iraq's oil wealth.
Brown also said on Monday that Britain would order 140 more Mastiff patrol vehicles, which provide protection against mines and roadside bombs, for British forces in Iraq and Afghanistan.
The Labour government has been subjected to persistent criticism that British soldiers operating overseas have not been provided with adequate equipment.
As Britain has withdrawn from bases in Iraq, the treatment of interpreters who work for British troops has been a sensitive issue after several were hunted down and murdered by militants.
In the past they were not given asylum in Britain, but Brown ordered a review of that policy in August.
"Existing staff who have been employed by us for more than 12 months and have completed their work will be able to apply for a package of financial payments to aid resettlement in Iraq or elsewhere in the region or in agreed circumstances for admission to the UK," he said.
A government official said there was no cap on the number of Iraqis who would be offered asylum in Britain.
Asked about a report in the Guardian newspaper that a maximum of 500 places would be offered, the official said: "There is no finite number. Applications will be taken on their merit, subject to checks. They will also be able to apply on behalf of their families."