CRANDON, Wis. - An off-duty sheriff's deputy who killed six young people fired 30 rounds of ammunition after he burst into a home where friends had gathered, investigators said Monday.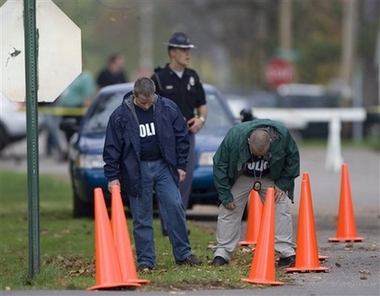 Police investigators look for evidence outside a home Monday, Oct. 8, 2007, in Crandon, Wis. Authorities said on Sunday, Tyler Peterson, 20, a Forest County deputy sheriff and part-time Crandon police officer, forced his way into the home and shot seven people, killing six. [AP]
Tyler Peterson, 20, who later died after exchanging gunfire with law enforcement officers, had been in a relationship with one of the victims, authorities said at a news conference.
"They were in a relationship for a few years," said Police Chief John Dennee. "They had broken up and gone back and forth."
The rampage raised questions among residents of the remote northern Wisconsin community about how Peterson could have met requirements to become a law enforcement officer. No psychological testing was performed, but he had undergone other background checks and completed all required training by the state, authorities said.
"We had no idea, obviously, that anything like this would ever occur," Dennee said. "Once we realized that he was our suspect, he was no longer a cop."
Killed in the rampage were six people who were either students or graduates of Crandon High School. They were at the house to share pizza and watch movies during the school's homecoming weekend. After Peterson burst in, an argument ensued, officials said.
He left to get his rifle, then forced his way back in and opened fire, said J.B. Van Hollen, the state's attorney general. Peterson fled and was later found at a residence in the nearby town of Argonne. In phone conversations with law enforcement after he fled, he identified himself as the shooter, officials said.
Though he exchanged gunfire with officers, it was not clear how he was killed, Van Hollen said. An autopsy was being conducted Monday, and authorities hoped it would tell them more.
The rifle used in the shootings is the type used by the sheriff's department, but investigators had not confirmed that the rifle he used came from law enforcement.
Classes at the high school were canceled Monday, and about 100 people - mostly teens -f went to a local church to meet with counselors. Many walked in with their arms around each other for support; some were crying.
The victims were identified as Jordanne Murray, Katrina McCorkle, Leanna Thomas, Aaron Smith, Lindsey Stahl and Bradley Schultz. Autopsies were scheduled to be completed Monday.
The lone survivor, Charlie Neitzel, 21, was upgraded to serious condition and was improving Monday at St. Joseph's Hospital, hospital spokeswoman Karla David said.
Schultz, 20, was a third-year criminal justice major at the University of Wisconsin-Milwaukee who hoped to be a homicide detective, said an aunt, Rose Gerow. He was home visiting friends and appeared to have died trying to protect one, said another aunt, Sharon Pisarek.
"We still don't have many details, but from what they've told us, there was a girl next to him and he was covering her, protecting her," Pisarek said, sobbing. "He was loved by everybody. He was everybody's son. Senseless."
Murray loved children and hoped to be a daycare provider, said Sally Maxon, whose daughter had been best friends with Murray since they were in kindergarten.
"She's a very, very wonderful person, the nicest girl you'd ever want to meet," said Maxon, who described her daughter as a nervous wreck after the shootings.
In a statement read by Praise Chapel Community Church Bill Farr, the deputy's family reached out the victim's families, saying they felt "a tremendous amount of guilt and shame for the acts Tyler committed."
"We may never receive the answers we all seek," they said. "Like those close to Tyler we are in shock and disbelief that he would do such terrible things. This was not the Tyler we knew and loved."
The town of about 2,000 people made headlines in August, when community groups and a soldier helped bring an Iraqi girl to the United States for a cornea transplant. Mayor Gary Bradley pleaded Monday for support to help the town begin to heal.
"This is something we have to put back together," he said.